Fall Colors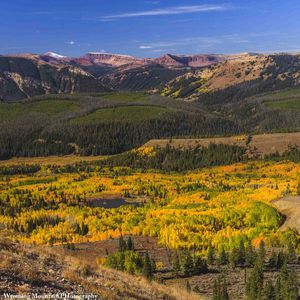 Candidate Meet & Greet in Marbleton Oct. 12

Graveside Funeral Service for Jack Clark Sept. 30

Fall pile burning planned on the Bridger-Teton

WYDOT gears up for new specialty plate background

Senator Enzi accepting nominees to military academies

Benefit Dinner/Auction in LaBarge Oct. 13

Wild Game processing near Pinedale and Big Piney

Culvert to be replaced on LaBarge Creek Road near Kemmerer

Concealed Firearm Permits-New Requirements in Wyoming

Local Contact Numbers

Sublette County Fair

Green River Valley Museum

Chuckwagon Days July 3rd & 4th in Big Piney

Local Lodging

Camping near Big Piney & Marbleton

Big Piney & Marbleton
---

Candidate Meet & Greet in Marbleton Oct. 12 (posted 9/26/16)
Come meet the candidates and talk to them one on one. All candidates running for the Rural Health Care District board and Sublette School District #9 board have been invited to participate in a Meet & Greet, Wednesday, October 12, from 6-8 pm at the senior center in Marbleton. Hosted by the Southwest Sublette County Pioneers Senior Citizen Center.

---

Graveside Funeral Service for Jack Clark Sept. 30 (posted 9/25/16)
Covill Funeral Home
Jack Clark, 73, of Big Piney passed away Friday, September 23, 2016 in Idaho Falls, Idaho. A graveside funeral service will be held Friday, September 30th at 11:00 A.M. at the Plainview Cemetery in Big Piney.

---

Fall pile burning planned on the Bridger-Teton (posted 9/24/16)
Slash and wood debris piles from summer forest projects
Bridger-Teton National Forest
With the onset of colder temperatures and wetter conditions fast approaching in the Bridger-Teton National Forest, Teton Interagency Fire crews will begin igniting piles of slash and wood debris created from fuels reduction projects, commercial timber sales, and fencing projects in the Big Piney and Pinedale Ranger Districts as early as September 26, 2016.

Piles to be ignited on the Pinedale Ranger District are located in the White Pine Ski Area on Skyline Drive, Sylvan Bay Summer Home Area, Fremont Lake Road, Fremont dump site, Boulder Lake Road, New Fork Lake campground and Boy Scout administrative site, and Elkhart Park. The Big Piney Ranger District piles are located on Bare Pass, Nylander, Kleinstick. This list is not comprehensive and additional areas with piles may be targeted for burning. Smoke will be visible in the vicinity of burning slash piles.

The material to be burned is the result of both timber sales and hazardous fuels reduction projects. These projects were implemented to provide greater defensible space and to lower the wildfire risk to homes and private property in the wildland urban interface. The fuel reduction projects have also created more open areas that will help moderate fire behavior during a wildfire increasing firefighter and public safety.

Slash piles are created by thinning and removing lower limbs from trees, as well as removing dead wood and brush from the forest floor. Firefighters place the slash in tepee-shaped piles and leave them to cure before burning them. Typically, piles are burned the year after they are created.

Teton Interagency Fire crews plan on burning the piles during or after significant moisture to decrease the risk of fire creeping away from ignited piles and to minimize heat produced by piles and effects to trees remaining in fuels treatment areas. Ignitions will cease early in the afternoon each day to allow piles and fuels to burn down prior to evening inversions and reduce smoke impacts to the area. All piles will be monitored until they are declared out.

For more information on prescribed fire, fuels reduction projects and defensible space, visit www.tetonfires.com or call the Pinedale Ranger District at 307-367-4326.

---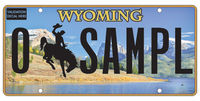 2017 Wyoming prestige plate design

WYDOT gears up for new specialty plate background (posted 9/24/16)
2017 plate will feature Green River Lakes and Squaretop Mountain
Wyoming Department of Transportation
The Wyoming Department of Transportation is temporarily putting a hold on new specialty and prestige plate applications from Sept. 24 through Oct. 1 to prepare for plates that will feature a new background.

Starting in 2017, the new plate design featuring the Lower Green River Lake and Squaretop Mountain will be on the state's 12 specialty plates, the prestige plates and the standard plates motorists receive at the county when registering their vehicles.

WYDOT will stop accepting applications for the specialty and prestige plates featuring the Tetons on Sept. 24. WYDOT will then begin processing and accepting all new applications it has for specialty and prestige plates on Oct. 1.

Per Wyoming law, license plate designs change every eight years with the new design needing to be readily distinguishable from the previous design. All designs are required to have the bucking horse logo.

"The specialty plate fee is paid each time the plate is redesigned," said Debbie Lopez, manager of Motor Vehicle Services, adding that the fee is in addition to the annual vehicle fee paid at the county.

For instance, if someone applies for a new specialty or prestige plate that has the Tetons before Sept. 24, they will need to pay the fee again in 2017 to get the new plate design.

Drivers who want a specialty plate will complete the application at WYDOT and will pay the fee for that particular specialty plate. The Disabled Veteran plate is the only one not affected. Veterans who request a Disabled Veteran plate can continue to do so because this plate is free to the requester, but they must be a disabled veteran.

"We also contact our specialty plate customers within three to six months of their plate's expiration to remind them to reorder their specialty plate," said Shannon DeGrazio, of WYDOT's Motor Vehicle Services program. "All current specialty plate customers who reorder in 2017 will have the option of keeping their existing plate combinations."

Although motorists will be able to start applying for specialty plates in October, they won't be able to put the new plate on until their current registration expires unless they pay in advance at the county for the extra months of registration.

Besides a new look, the prestige plates will now have a maximum of five letters or combination of five letters, numbers and spaces. In previous years, the maximum was four.

To view the guidelines for the prestige plates or to learn more about the specialty plates, visit WYDOT's website at www.dot.state.wy.us.

---

Senator Enzi accepting nominees to military academies (posted 9/24/16)
Senator Enzi media release
Washington, D.C. – U.S. Senator Mike Enzi, R-Wyoming, is accepting applications for nominations to the U.S. military service academies for the 2017 school year. Every year, Enzi gives Wyoming youth considering military careers the opportunity to apply for nomination to the Air Force Academy, the Merchant Marine Academy, the Military Academy at West Point and the Naval Academy.

"Military service academies provide outstanding opportunities to our nation's youth through education and training. Attending one of these academies is a great way for our young men and women to serve our country, develop leadership skills and begin a career in military service," Enzi said. "I encourage anyone who is interested to apply."

For every vacancy available at each academy, Enzi is allowed to nominate 10 students. Nominations are based on an evaluation of leadership, extracurricular activities, SAT/ACT test scores and letters of recommendation. Based on the applicant's interview with Enzi's selection committee, applicants are recommended to Enzi for final approval. Following Enzi's nomination, final appointments will be made by each academy.

All applicants for service academies require a Congressional nomination. Applications for a nomination are due to Enzi's Cheyenne office by November 10th. Address: 2120 Capitol Ave. Ste. 2007 Cheyenne, WY 82007

Applicants will be interviewed in Senator Enzi's Casper office on December 3rd and final nominees will be announced in late December.

The application, procedures and specific applicant criteria are available at enzi.senate.gov in "Academy Nominations" under the "Students" tab. For additional application information, contact Martha Wilson at (307) 772-2477 or Martha_Wilson@enzi.senate.gov.

---

Benefit Dinner/Auction in LaBarge Oct. 13 (posted 9/6/16)
For Kayla Bohannon and Blaine Jones
There will be a benefit dinner/auction for Kayla Bohannon and for Blaine Jones on Thursday, October 13, 2016, at the La Barge Elementary School beginning at 6:00 p.m. All proceeds will be split between the two families to help with medical expenses. lf you have any auction items, please contact Trish Studt at 307-386-2478 There is also a raffle for a Remington 700 Special Purpose SYN 300 Mag Rifle and tickets are $10 each or six for $50. To purchase tickets or if you have any questions, please call Arlene at 307-386-2666 or Jenny at 307-388-0198.

---

Wild Game processing near Pinedale and Big Piney (posted 8/31/16)
Editor's Note, updated Sept. 1, 2016: We've had several hunters ask us where can they get their wild game processed in Sublette County? Here are the names of businesses we are aware of that provide butchering service. Please note that the phone number we posted earlier for WR Processing is incorrect and we do not have current contact information for that company.

Nelson Butchering – Wild Game Processing Located at the Noble Flying U Ranch, 100 Noble Road in Cora, Wyoming. Take the Cora Post Office Road off of Hwy 352 and follow it to the end. 307-231-1596.

Hog Island Meats, Jackson, WY, 307-413-3322, http://www.hogislandmeats.com/contact-us/

Jackson Hole Ice & Game, 307-732-0496

Dana Cold Storage, Thayne, WY, 307-883-2397

The Butcher Shop, Rock Springs, WY, 307-362-2755

Henderson Meat Processing, Green River, WY, 307-875-7611, http://www.hendersonmeat.com


---

Culvert to be replaced on LaBarge Creek Road near Kemmerer (posted 8/29/16)
Temporary Road Closure August 30 through Sept. 30, 2016
Bridger-Teton National Forest
KEMMERER, WYOMING, August 29, 2016 – Road construction activities are scheduled on the LaBarge Creek Road (FS 10138 Rd) on the Kemmerer Ranger District for the replacement of a culvert. Delays of up 20-minutes are possible. Construction will occur on the roadway beginning August 30 through September 30, 2016.

The work will occur at Shafer Creek, which is approximately three miles from the Forest boundary on the LaBarge Creek Road. The LaBarge Creek road will be closed to all through traffic from August 30th through September 1st. While the road is closed, LaBarge Creek will be accessible from the Middle Piney Creek Forest entrance on the 10046 Road, the Smith's Fork Road (FS 10072 Rd), or the Grey's River Road (10138 north entrance). For current road closure status, please call the Kemmerer Ranger District at (307)-828-5100.

---

Concealed Firearm Permits-New Requirements in Wyoming (posted 8/16/16)
Clarification update from the Sublette County Sheriff's Office, 8/31/16: In 2011 the Wyoming Concealed Firearm Permit State Statute was revised which removed the requirement for Wyoming residents that wanted to carry a concealed firearm in the state from having a valid permit to carry a concealed firearm. Therefore, the permit is optional for residents wanting to carry in Wyoming. A permit is required if you cross into another state that recognizes Wyoming permits. There are currently 35 states that honor Wyoming permits to carry concealed. The complete list and map can be found at the DCI website.
____________________________________

Original post 8/16/16:
Applications for a Wyoming Concealed Firearm Permit are now only available online at http://wyomingcdi.wyo.gov. Once in the DCI website, you may click on the link for "Concealed Firearm Permits."

You may choose to print the application and complete it with black or blue ink or type the application online and print it out. All paperwork needs to be submitted to your local Sheriff's Office. The required paperwork includes: completed application, driver's license, proof of firearm's proficiency, and fees. Your fingerprints will be taken when you submit your application to the Sheriff's Office.

Fees are as follows:
-New application $64 (DCI) + $10 (SO)
-Renewal application before the expiration date $45 (DCI) + $5 (SO)
-Renewal application after the expiration date $55 (DCI) + $5 (SO)
-Duplicate permit application $5

DCI fees will be required in the form of a cashier's check or money order. S.O. fees will be required as exact cash or a check. We do not accept credit cards.

Questions or concerns may be directed to DCI by email at cfp@wyo.gov or by calling 307-777-7181. Answers to many questions can be found on the aforementioned website by clicking on "Frequently Asked Questions."

---

Local Contact Numbers
Big Piney Town Hall
PO Box 70
Big Piney, WY 83113
307-276-3554
www.bigpiney.us

Marbleton Town Hall
10700 US 189
Marbleton, WY 83113
307-276-3815

Flicks & Pins Entertainment Center
Open Sunday through Thursday from 3:00PM to 10:00PM
Friday & Saturday 3:00PM to Midnight
Phone 307-276-4062 for movie times
www.flicksnpins.com/

Big Piney Ranger District
Bridger-Teton National Forest
P.O. Box 218
Big Piney, WY, 83113
307-276-3375 or 276-5800/5200
Fax: 307-739-5235/276-5835
www.fs.fed.us/btnf/

Sublette County Courthouse
21 S Tyler, Pinedale, WY 82941
Big Piney Direct Line 307-276-3827
Marbleton Annex 307-276-3735
Pinedale Information: 307-367-7722

Sublette County Sheriff's Department
PO Box 701
Pinedale, WY 82941
Marbleton: 307-276-5448
Pinedale: 307-367-4378

Big Piney Post Office
401 Budd Avenue
307-276-3772
1-800-275-8777

Sublette County School District #9
Superintendent's Office: 307-276-3322
Big Piney High School: 307-276-3324
Big Piney Middle School: 307-276-3315
Big Piney Elementary School: 307-276-3313
Big Piney Pool: 307-276-9966
www.sublette9.org


Southwest Sublette County Pioneers Senior Citizen Center
429 E First St, Marbleton, WY
P.O. Box 33
Big Piney, WY 83113
Phone: (307) 276-3249
Fax (307) 276-3249
E-mail: southwest001@centurytel.net
Open 8:00am to 4:00pm
Lunch at 12:00 noon Tue. Wed. Thurs. (starting July 1, 2008)
Joan Mitchell / Director
www.bpmseniorhousing.com
Facebook page

Green River Valley Cowbelles
www.greenrivervalleycowbelles.com

More Area Information:
Sublette County Chamber of Commerce (Pinedale)
307-367-2242 or 1-888-285-7282
www.sublettechamber.com

BigPiney.com (Pinedale Online!)
307-360-7689 (days, evenings, weekends, after hours calls ok)
---

Sublette County Fair
July - August
The Sublette County Fair is packed with entertainment and fun. There is something for everyone to enjoy.

One of the many highlights is the Lil' Buckaroo Rodeo. The audience holds their breath as these young cowboys and cowgirls try their hand at bronc riding. The evening ends with the youngest contestants competing in the stick horse barrel race. The greased pig contest is another favorite, the crowd roars with laughter watching the wave a kids overtaking the slimy critters.

Spend some time viewing the livestock shows and watch the participants as they receive their awards for a job well done. Enjoy the wonderful food which some how tastes more delicious in the atmosphere of the fair festivities. Finish the night off at the rodeos with many local cowboys and cowgirls participating in the fast paced events. Visit the Sublette County Fair web page to enjoy pictures from previous years fairs.

For more information visit - www.sublettecountyfair.com.
---

Green River Valley Museum
Open June through October
The Green River Valley Museum is located on the main street in Big Piney. Artifacts from prehistoric Indians, pioneers, homesteaders and other various groups that have settled this area are on display at the museum. Many of the items displayed at the museum were donated by local families. 'Hard Hats and Stetsons' is the annual fundraiser for the museum. The name of the fundraiser itself reflects how important the cattle and oil industry have been for this valley.

The museum is open Tuesday through Saturday from 12:00 Noon until 4:00 PM from June into October (opening date varies, so watch for announcements on the specific date each year). Admission is by donation. Special tours can be arranged by calling Museum Director Jeannie Lockwood at 307-276-3637.

For more information visit www.grvm.com
---

Chuckwagon Days July 3rd & 4th in Big Piney
Chuckwagon Days takes place each year over the 4th of July holiday in Big Piney. There is a Lil' Buckaroo Rodeo, a parade down Big Piney's main street followed by a free BBQ at the Sublette County Fairgrounds, an afternoon rodeo, street dance and late evening fireworks (on the 4th).

The "Chuckwagon Chug" a 5k and 10k Walk/Run, will be held on July 4th, before the Big Piney Parade. Start/Finish is at the Big Piney High School parking lot. There will be prizes for top finishers and gift bags for all contestants.

More information about Chuckwagon Days can be found here: www.ChuckwagonDays.com
---

Local Lodging
If you are looking for local lodging and places to stay in the Big Piney-Marbleton areas, be sure to check the Sublette County Chamber of Commerce website under lodging. Big Piney and Marbleton are located about 35 miles south of Pinedale, so look under motels, RV parks and campgrounds specific to our towns.
Lodging Links:
Bed & Breakfasts, Cabins, Motels, Guest Ranches, RV
www.sublettechamber.com
---

Camping near Big Piney & Marbleton
The closest campgrounds are located on the Big Piney Ranger District of the Bridger-Teton National Forest. They offer two developed campgrounds and many opportunities for dispersed camping in the Wyoming Range west of Big Piney and Marbleton. The forest boundary is approximately 20 miles from local businesses and town services. For detailed information, contact the district office at 307-276-3375.

Sacajewea Campground Located 25 miles west of Big Piney. This campground has 26 sites, basic amenities, and is open June 15th through September 30th. The camping fee is $7.00 per site, per night. This campground has running water, an on-site host, and is well maintained. No electricity, showers or phone.

Middle Piney Lake Campground This is a primitive campground located further down the road from the Sacajewea Campground. This camp area is next to Middle Piney Lake and has 5 tent sites, tables and pit toilets. NO running water, electricity, showers or phone service. NO fees. Because of the narrow winding road to this campground, it is not recommended to take trailers to the lake site.

Forest Service Cabins Big Piney Ranger District offers two Forest Service work centers for rent for overnight stays. One is located at Snider Basin and the other in the Hoback. Contact the Big Piney office for more information on availability and fees.

NOTICE ABOUT BEARS: These campgrounds are in bear country. Both black bears and grizzly bears inhabit the Wyoming mountain range. Visitors are strongly encouraged to practice clean camping techniques and store attractants in a manner that makes them unavailable to bears. Bear-proof canisters are available for rent from the Big Piney Ranger District office. Bear-proof dumpsters are located at various locations at campgrounds and recreation areas on National Forest land.

Dispersed Camping:
There are practically unlimited opportunities for dispersed camping on the Bridger-Teton National Forest near Big Piney/Marbleton. The forest boundary is approximately 20 miles from town. Stay limit is 16 days in any one location. Campers should either bring their own water or boil water obtained from sources in the outdoors to avoid getting sick from organisms that live in lakes and streams. Do not drink untreated surface water. Dispersed camping is available along the Piney, Cottonwood and LaBarge Creek drainages.

Camping on BLM land
There are no developed campgrounds on BLM land near Big Piney or Marbleton, however there are many places for dispersed camping for those who are prepared to bring their own drinking water and camp without developed facilities. For more information, contact the Pinedale Field Office of the Bureau of Land Management in Pinedale.

Private RV Campgrounds
There are several private businesses that offer RV campsites for overnight and extended stays. Most have power, water and sewer hookups. Click here to our sister website, Pinedale Online, for info about private RV campgrounds and services.

Related Links:
Bridger-Teton National Forest/Big Piney Ranger District
Sublette County Chamber of Commerce
---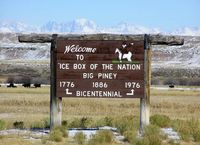 Big Piney, Wyoming, "Ice Box of the Nation"

Big Piney & Marbleton
Ice Box of the Nation
Big Piney is the oldest settlement in Sublette County, Wyoming and was named by Dan B. Budd for the Piney Creeks. In 1879, Daniel B. Budd and his partner Hugh McKay brought a thousand head of cattle from Nevada hoping to ship them at Point of Rocks, but winter caught up to them here in the Green River Valley. The following year Dan Budd moved his family here and that is how the settlement of this town began. Big Piney was called "Ice Box of the Nation" when it was officially made a weather station in 1930. Big Piney had the coldest year round average temperature of any place nationally.

It's a curiosity, considering most Wyoming towns are few and far between, that Big Piney and Marbleton would only be a mile apart. They have separate post offices and town governments. Big Piney was incorporated on July 5, 1913. In the early days there was a lot of drainage problems with the site on which Big Piney was built. So Charles Budd, eldest son to Dan B Budd had hope to build the town up on the bench to alleviate this problem. Charles did establish Marbleton on the bench, in late 1913, but it never replaced Big Piney. Any attempts to combine the two towns has been unsuccessful. The truth is people here kinda' like it that way. Both towns cooperate with each other, they have a common school. The citizens of these two towns take a lot of pride in the growth of their little metropolis over the past years and think the founders would be proud too. Both communities have thrived in the last several decades because of the oil and gas industry. In the 1980's Marbleton recieved it's own post office, because of the number of people moving to the area.
---
To contribute information to this community website,
please e-mail: info@bigpiney.com or info@marbleton.com.
Phone: 307-276-5699 • Fax: 307-276-5414

October 1: Big PIney Library Fall Festival 1-4PM. Crafts, refreshments, trips to the Green River Valley Museum. Wine making at 1PM. Wyoming beers on tap.

October 1: Gear and Rock Swap & Sale At Big Piney Centennial Park. Booth space available, call Big Piney Rec, 307-276-4071.

October 4: Flu Vaccine Clinic At the Marbleton/Big Piney Senior Center, 11AM to 6PM. Sponsored by the Public Health Nurses. Cost is $20. Can be billed to Medicare & BCBS.

October 12: Candidate Meet & Greet in Marbleton All candidates running for the Rural Health Care District board and Sublette School District #9 board have been invited to participate in a Meet & Greet from 6-8 pm at the senior center in Marbleton. Hosted by the Southwest Sublette County Pioneers Senior Citizen Center.

October 13: Benefit Dinner/Auction in LaBarge For Kayla Bohannon and for Blaine Jones Thursday at the LaBarge Elementary School beginning at 6:00PM. All proceeds will be split between the two families to help with medical expenses. lf you have any auction items, please contact Trish Studt at 307-386-2478. There is also a raffle for a Remington 700 Special Purpose SYN 300 Mag Rifle and tickets are $10 each or six for $50. To purchase tickets or if you have any questions, please call Arlene at 307-386-2666 or Jenny at 307-388-0198.

October 18: Flu Vaccine Clinic At the Marbleton/Big Piney Senior Center, 10AM to 1PM. Sponsored by the Public Health Nurses. Cost is $20. Can be billed to Medicare & BCBS.

October 19: Sublette County Rural Health Care District Regular Board Meeting Marbleton Town Hall, 6PM.

November 9: Local Emergency Planning Committee (LEPC) regular meeting 8:30AM, Sublette County Unified Fire Training Facility in Marbleton.

Green River Valley Museum


Sublette County Fair


Sublette.com


Sublette Co Chamber of Commerce


Town of Big Piney


Big Piney Gun Club

Site Sponsors: