Sandhill Cranes are back!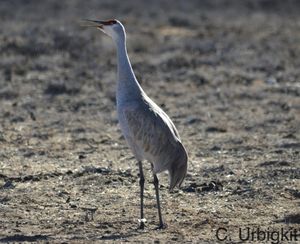 Meet & Greet with Taylor Haynes, M.D. in Big Piney April 17

Groundwater awareness

Local Contact Numbers

Sublette County Fair

Green River Valley Museum

Chuckwagon Days

Local Lodging

Camping near Big Piney & Marbleton

Big Piney & Marbleton
---

Meet & Greet with Taylor Haynes, M.D. in Big Piney April 17 (posted 4/16/14)
Candidate (R) for Wyoming Governor. At 3:15 PM at St. Anne's Parish, 421 Piney Drive in Big Piney. For more infor contact Key Jensen 307-537-5216 or Fi Brewer 307-587-4535. There will be another Meet & Greet later in the evening in Pinedale.
---

Groundwater awareness (posted 3/16/14)
Regular testing of private wells helps ensure water quality and safety of drinking water
Whether for drinking, irrigation, industry or as part of a healthy ecosystem, groundwater is a vital natural resource affecting all walks of life. The Wyoming Association of Conservation Districts (WACD) and Wyoming Natural Resource Foundation (WNRF) held National Groundwater Awareness Week March 9-15.

Groundwater is a renewable natural resource that comes from precipitation that soaks into the soil and moves downward to fill openings in beds of rock and sand. These geologic formations that contain groundwater are called aquifers.

In many areas of Wyoming, surface water is fully appropriated and residents are relying more and more on groundwater. More than 75 percent of Wyoming citizens depend on groundwater for part or all of their drinking water supply. Nationwide, groundwater supplies nearly half of all drinking water and 40 percent of irrigation water, according to the National Ground Water Association (NGWA).

It is the sole responsibility of well owners to test, protect and maintain private drinking water wells. Well owners should be aware of potential groundwater contaminants, their health risks and how to test for them.

According to the Wyo. Department of Environmental Quality, Water Quality Division (WDEQ/WQD), the most common contaminants are nitrates, bacteria, arsenic and uranium. Consuming polluted groundwater poses serious health risks for anyone, but is especially harmful to infants, young children, pregnant or nursing women, the elderly and people with compromised immune systems.

Testing groundwater can help ensure its safety. The Water Quality Rules & Regulations Chapter 23A provides a complete list of common contaminants for which to test, but the WDEQ/WQD recommends at least annual testing for bacteria. Well owners should also test when there is an unexplained illness in the household, someone in the household is pregnant or nursing, there is a spill of chemicals or fuels near a well, neighbors find a contaminant in their water or if there are changes in the color, taste, or odor of water. There are several water quality laboratories located around Wyoming and in adjacent states. These laboratories can explain to homeowners how to collect water samples and what constituents to analyze for.

For proper well maintenance, the NGWA also recommends keeping a "clean" zone of at least 50 feet between wells and hazardous materials. Regularly check the well cover or cap to ensure it is in good repair and securely attached. Well owners should also have their septic tank cleaned and serviced every two years to eliminate the opportunity for waste backing up and unwanted materials leaching into the soil. This will affect the operation and life of the system and leachfield.

While there is no government agency that regulates water quality from private drinking wells in Wyoming, homeowners can get information about groundwater safety from the following sources:
• A local Conservation District. Visit www.conservewy.com for local contact information.
• The Wyoming State Engineer's Office at 307-777-6163.
• The Department of Environmental Quality, Water Quality Division at 307-777-7781.

To learn more about groundwater and how to keep your drinking water supply safe, visit www.conservewy.com, www.ngwa.org and www.knowyourwell.org.
---

Local Contact Numbers
Big Piney Town Hall
PO Box 70
Big Piney, WY 83113
307-276-3554
E-mail: tbpiney@yahoo.com
Mayor: Phillip Smith
www.townofbigpiney.com

Marbleton Town Hall
10700 US 189
Marbleton, WY 83113
307-276-3815
E-mail: marbletontown@hotmail.com
Mayor: Jim Robinson

Flicks & Pins Entertainment Center
Open Sunday through Thursday from 3:00PM to 10:00PM
Friday & Saturday 3:00PM to Midnight
Phone 307-276-4062 for movie times
http///www.townofbigpiney.com/FlicksnPins.html

Big Piney Ranger District
Bridger-Teton National Forest
P.O. Box 218
Big Piney, WY, 83113
307-276-3375 or 276-5800/5200
Fax: 307-739-5235/276-5835
www.fs.fed.us/btnf/

Sublette County Courthouse
21 S Tyler, Pinedale, WY 82941
Big Piney Direct Line 307-276-3827
Marbleton Annex 307-276-3735
Pinedale Information: 307-367-7722

Sublette County Sheriff's Department
PO Box 701
Pinedale, WY 82941
Marbleton: 307-276-5448
Pinedale: 307-367-4378

Big Piney Post Office
401 Budd Avenue
307-276-3772
1-800-275-8777

Sublette County School District #9
Superintendent's Office: 307-276-3322
Big Piney High School: 307-276-3324
Big Piney Middle School: 307-276-3315
Big Piney Elementary School: 307-276-3313
Big Piney Pool: 307-276-9966
www.sublette9.org


Southwest Sublette County Pioneers Senior Citizen Center
429 E First St, Marbleton, WY
P.O. Box 33
Big Piney, WY 83113
Phone: (307) 276-3249
Fax (307) 276-3249
E-mail: southwest001@centurytel.net
Open 8:00am to 4:00pm
Lunch at 12:00 noon Tue. Wed. Thurs. (starting July 1, 2008)
Joan Mitchell / Director

Green River Valley Cowbelles
www.greenrivervalleycowbelles.com

More Area Information:
Sublette County Chamber of Commerce (Pinedale)
307-367-2242 or 1-888-285-7282
www.sublettechamber.com

BigPiney.com (Pinedale Online!)
307-276-5699 or 307-360-7689 (days, evenings, weekends ok)
---

Sublette County Fair
July - August
The Sublette County Fair is packed with entertainment and fun. There is something for everyone to enjoy.

One of the many highlights is the Lil' Buckaroo Rodeo. The audience holds their breath as these young cowboys and cowgirls try their hand at bronc riding. The evening ends with the youngest contestants competing in the stick horse barrel race. The greased pig contest is another favorite, the crowd roars with laughter watching the wave a kids overtaking the slimy critters.

Spend some time viewing the livestock shows and watch the participants as they receive their awards for a job well done. Enjoy the wonderful food which some how tastes more delicious in the atmosphere of the fair festivities. Finish the night off at the rodeos with many local cowboys and cowgirls participating in the fast paced events. Visit the Sublette County Fair web page to enjoy pictures from previous years fairs.

For more information visit - www.sublettecountyfair.com.
---

Green River Valley Museum
Open June through October
The Green River Valley Museum is located on the main street in Big Piney. Artifacts from prehistoric Indians, pioneers, homesteaders and other various groups that have settled this area are on display at the museum. Many of the items displayed at the museum were donated by local families. 'Hard Hats and Stetsons' is the annual fundraiser for the museum. The name of the fundraiser itself reflects how important the cattle and oil industry have been for this valley.

The museum is open Tuesday through Saturday from 12:00 Noon until 4:00 PM from June into October (opening date varies, so watch for announcements on the specific date each year). Admission is by donation. Special tours can be arranged by calling Museum Director Jeannie Lockwood at 307-276-3637.

For more information visit www.grvm.com
---

Chuckwagon Days
Over July 4th
Chuckwagon Days takes place each year over the 4th of July holiday in Big Piney. There is a Lil' Buckaroo Rodeo, a parade down Big Piney's main street followed by a free BBQ at the Sublette County Fairgrounds, an afternoon rodeo, street dance and late evening fireworks (on the 4th).

The "Chuckwagon Chug" a 5k and 10k Walk/Run, will be held on July 4th, before the Big Piney Parade. Start/Finish is at the Big Piney High School parking lot. There will be prizes for top finishers and gift bags for all contestants.

More information about Chuckwagon Days can be found here: www.ChuckwagonDays.com
---

Local Lodging
If you are looking for local lodging and places to stay in the Big Piney-Marbleton areas, be sure to check the Sublette County Chamber of Commerce website under lodging. Big Piney and Marbleton are located about 35 miles south of Pinedale, so look under motels, RV parks and campgrounds specific to our towns.
Lodging Links:
Bed & Breakfasts, Cabins, Motels, Guest Ranches, RV
www.sublettechamber.com
---

Camping near Big Piney & Marbleton
The closest campgrounds are located on the Big Piney Ranger District of the Bridger-Teton National Forest. They offer two developed campgrounds and many opportunities for dispersed camping in the Wyoming Range west of Big Piney and Marbleton. The forest boundary is approximately 20 miles from local businesses and town services. For detailed information, contact the district office at 307-276-3375.

Sacajewea Campground Located 25 miles west of Big Piney. This campground has 26 sites, basic amenities, and is open June 15th through September 30th. The camping fee is $7.00 per site, per night. This campground has running water, an on-site host, and is well maintained. No electricity, showers or phone.

Middle Piney Lake Campground This is a primitive campground located further down the road from the Sacajewea Campground. This camp area is next to Middle Piney Lake and has 5 tent sites, tables and pit toilets. NO running water, electricity, showers or phone service. NO fees. Because of the narrow winding road to this campground, it is not recommended to take trailers to the lake site.

Forest Service Cabins Big Piney Ranger District offers two Forest Service work centers for rent for overnight stays. One is located at Snider Basin and the other in the Hoback. Contact the Big Piney office for more information on availability and fees.

NOTICE ABOUT BEARS: These campgrounds are in bear country. Both black bears and grizzly bears inhabit the Wyoming mountain range. Visitors are strongly encouraged to practice clean camping techniques and store attractants in a manner that makes them unavailable to bears. Bear-proof canisters are available for rent from the Big Piney Ranger District office. Bear-proof dumpsters are located at various locations at campgrounds and recreation areas on National Forest land.

Dispersed Camping:
There are practically unlimited opportunities for dispersed camping on the Bridger-Teton National Forest near Big Piney/Marbleton. The forest boundary is approximately 20 miles from town. Stay limit is 16 days in any one location. Campers should either bring their own water or boil water obtained from sources in the outdoors to avoid getting sick from organisms that live in lakes and streams. Do not drink untreated surface water. Dispersed camping is available along the Piney, Cottonwood and LaBarge Creek drainages.

Camping on BLM land
There are no developed campgrounds on BLM land near Big Piney or Marbleton, however there are many places for dispersed camping for those who are prepared to bring their own drinking water and camp without developed facilities. For more information, contact the Pinedale Field Office of the Bureau of Land Management in Pinedale.

Private RV Campgrounds
There are several private businesses that offer RV campsites for overnight and extended stays. Most have power, water and sewer hookups. Click here to our sister website, Pinedale Online, for info about private RV campgrounds and services.

Related Links:
Bridger-Teton National Forest/Big Piney Ranger District
Sublette County Chamber of Commerce
---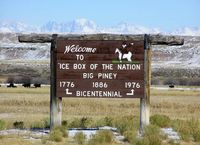 Big Piney, Wyoming, "Ice Box of the Nation"

Big Piney & Marbleton
Ice Box of the Nation
Big Piney is the oldest settlement in Sublette County, Wyoming and was named by Dan B. Budd for the Piney Creeks. In 1879, Daniel B. Budd and his partner Hugh McKay brought a thousand head of cattle from Nevada hoping to ship them at Point of Rocks, but winter caught up to them here in the Green River Valley. The following year Dan Budd moved his family here and that is how the settlement of this town began. Big Piney was called "Ice Box of the Nation" when it was officially made a weather station in 1930. Big Piney had the coldest year round average temperature of any place nationally.

It's a curiosity, considering most Wyoming towns are few and far between, that Big Piney and Marbleton would only be a mile apart. They have separate post offices and town governments. Big Piney was incorporated on July 5, 1913. In the early days there was a lot of drainage problems with the site on which Big Piney was built. So Charles Budd, eldest son to Dan B Budd had hope to build the town up on the bench to alleviate this problem. Charles did establish Marbleton on the bench, in late 1913, but it never replaced Big Piney. Any attempts to combine the two towns has been unsuccessful. The truth is people here kinda' like it that way. Both towns cooperate with each other, they have a common school. The citizens of these two towns take a lot of pride in the growth of their little metropolis over the past years and think the founders would be proud too. Both communities have thrived in the last several decades because of the oil and gas industry. In the 1980's Marbleton recieved it's own post office, because of the number of people moving to the area.
---
To contribute information to this community website,
please e-mail: info@bigpiney.com or info@marbleton.com.
Phone: 307-276-5699 • Fax: 307-276-5414

April 17: Meningitis Vaccinations for Big Piney Seniors Sublette County children ages 12-18 are eligile for free meningitis shots at the Sublette County Public Health Office by calling 307-367-2157. www.themckenziefoundation.org

April 17: Meet & Greet with Taylor Haynes, M.D. in Big Piney Candidate (R) for Wyoming Governor. At 3:15 PM at St. Anne's Parish, 421 Piney Drive in Big Piney. For more infor contact Key Jensen 307-537-5216 or Fi Brewer 307-587-4535. There will be another Meet & Greet later in the evening today in Pinedale.

April 25-27: Sublette County High School Rodeo At the Sublette County Fairgrounds Ag Center.

June 20: Celebration for the awarding of National Register status for the Green River Drift Details to be announced. Will be done in combination with tomorrow's Grand Opening for the new New Fork Park to have a 2-day fun history weekend. For more information contact the Sublette County Historical Society/Museum of the Mountain Man, 307-367-4101.


June 21: Grand Opening celebration for the Lander Trail-New Fork River Crossing Historical Park The park is located just north of Hwy 351 off of Paradise Road. Details to be announced. For more information contact the Sublette County Historical Society/Museum of the Mountain Man, 307-367-4101.


July 3 & 4: Chuckwagon Days Two days of fun in Big Piney/Marbleton celebrating Independence Day. Early morning walk/run, parade down Budd Ave in Big Piney, free community BBQ, Lil' Buckaroo Rodeo, rodeo, fireworks, street dance. Come join the celebration!

July 4: Chuckwagon Days Rodeo At the Sublette County Fairgrounds Rodeo Arena, Big Piney, 1:00PM. For ticket info call 307-367-1068, www.adiamondproductions.net


July 18: MESA Horse Show At the Sublette County Ag Center, Sublette County Fairgrounds, 5:30 p.m. For more information, contact Carla Sullivan, Executive Director, 307-749-3979 or email subletterides@gmail.com, www.mesarides.org. M.E.S.A. Therapeutic Horsemanship, Inc.


July 18: Sublette County Fair Rodeo At the Sublette County Fairgrounds north of Marbleton, 7:00PM. For ticket info call 307-367-1068, www.adiamondproductions.net


July 19-26: Sublette County Fair in Big Piney/Marbleton A week full of fun at the Sublette County Fairgrounds, north or Marbleton. Click on this link for this year's schedule, entertainment, registration forms: www.sublettecountyfair.com


Green River Valley Museum


Sublette County Fair


Sublette.com


Sublette Co Chamber of Commerce


Town of Big Piney


Big Piney Gun Club

Site Sponsors: