Flying trampoline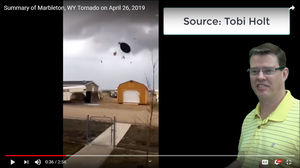 Tornado damage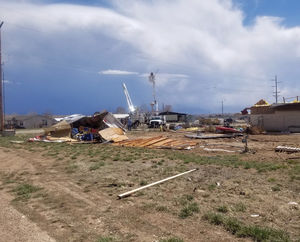 Memorial Service for James (Jim) Mickelson June 15, 2019 in Marbleton

2019 Big Piney Class Reunion July 27th

Update on the Marbleton tornado

Reported tornado touches down in Marbleton

Mammography screenings in Marbleton May 1-3

Middle Piney Dam and Road Closure

Info on vehicle registration laws in Wyoming for non-resident workers

3 towns call themselves the 'Ice Box of The Nation'

Local Contact Numbers

Sublette County Fair

Green River Valley Museum

Chuckwagon Days July 3rd & 4th in Big Piney

Local Lodging

Camping near Big Piney & Marbleton

Big Piney & Marbleton
---

Memorial Service for James (Jim) Mickelson June 15, 2019 in Marbleton (posted 6/14/19)
A memorial service for James (Jim) Stewart Mickelson with Masonic Rites will be conducted on June 15, 2019 at 11 a.m. at the Big Piney Masonic Hall, 403 Main St., Marbleton. A luncheon will follow.

Obituary:
James (Jim) Stewart Mickelson, May 5, 1947 – Dec. 30. 2018

Jim Mickelson peacefully passed away on Dec. 30, 2018, in Salt Lake City, Utah, following a courageous battle with sarcoma cancer.

Jim was born in Laramie to Gordon Sr. and Margaret Gilchrist Mickelson on May 5, 1947. He attended schools in Big Piney and Booneville, Mo. Jim was active in sports and was the 1965 Wyoming High School Rodeo Steer Wrestling Champion. He attended Casper College. Jim married Jane Lozier Swain in 1970 and together they raised five children. They later divorced.

In 1995, Jim married Mary Lynn Montague. He was proud to call her four children his "kids."

Jim was very active with youth and was a longtime supporter and coach of rodeo kids in Sublette County. He also gave a great deal of his time to the Big Piney Job's Daughters, serving as the Associate Bethel Guardian and to the Wyoming Job's Daughters, serving as the Associate Grand Guardian for the state of Wyoming.

Jim was involved in the Masonic Fraternity and was a past master of the Big Piney Lodge and was a proud member of the Shrine. Being civic minded, he served on the Sublette County Planning and Zoning, was an avid supporter of Sublette County Cowboys Against Cancer, and was a longtime cast member and supporter of the Green River Rendezvous Pageant. Jim also served with the Wyoming Board of Agriculture and with the Wyoming State Fair. He was known by Wyoming State Fair patrons as the "tie guy" for the colorful and fun ties that he always wore. Jim's lifelong loves were ranching and being in the mountains of Sublette County.

He fed elk on North Piney for 13 years, outfitted and guided in the Wyoming and Wind River Ranges, rode the Cottonwood and North Piney countries and truly appreciated the time he had with nature, horses, and cattle. He was preceded in death by his father, Gordon Mickelson Sr., one sister, Margaret Peterson, and a brother, Eric Mickelson. He was surely waiting for his precious mother, Margaret Gilchrist Mickelson, who went home to her savior and many loved ones on April 24, 2019.

He is survived by his wife, Mary Lynn Mickelson; brothers Gordon Jr. and Mark Mickelson (Diane); sisters Corliss Carlson (Jay) and Mildred Abernathy (Tom); his children: Jon Mickelson, Melita Hansen (Dave), Jason Mickelson, Matesi Mickelson, Gerda Dickinson (Marc), Heather Neff, Cydnee Alsrey, Liz Porter and McKay Montague. Jim was very proud of his 15 grandchildren and seven great-grandchildren.

Donations may be made in Jim's honor to Sublette County Cowboys Against Cancer, Wyoming High School Rodeo (Queen Program) c/o Gerda Dickinson Rte. 1 South Hwy 430 Rock Springs, Wyo., 82901 or a charitable organization of your choice.
---

2019 Big Piney Class Reunion July 27th (posted 5/23/19)
There will be a reunion for Big Piney classes 1966 through 1972 on Saturday, July 27th from 3:00PM to 11:00PM at the Southwest Sublette Count Pioneers Senior Center in Marbleton. Cost will be $25.50 for a chicken dinner or $31.50 for prime rib dinner, which includes one trip to a buffet and a beverage. If interested in attending, contact Pam Bowman Norris at pamn528@hotmail.com by July 1st.

---

Update on the Marbleton tornado (posted 5/1/19)
The National Weather Service put out some more information on the tornado that touched down in Marbleton on Sunday, April 26th. They confirmed that it was a tornado, calling it a very small one. It tore off the roof of a building, turned over a travel trailer, and scattered debris quite a ways around. They said it lasted for about one minute, from 12:30 to 12:31PM and had a rating of EF0. They estimated the wind speeds to be about 80 miles per hour. It was about 20 yards wide and had a path length of about 1/10th of a mile.

Click on this link to see the National Weather Service summary of the event.

Click on this link to see a YouTube video of the event taken by an area resident: April 26, 2019 tornado in Marbleton, Wyoming (video courtesy Tobi Holt Sherbrook)

Related Links:
Reported tornado touches down in Marbleton Pinedale Online, April 26, 2019

---

Reported tornado touches down in Marbleton (posted 4/26/19)
Sublette County Sheriff's Office received reports of a tornado having touched down on East 6th Street in Marbleton around 1:45PM. A trailer house was damaged, but no one was injured. The power went out multiple times across the county. The National Weather Service issued a Special Weather for Sublette County until 9pm April 26th 2019. Strong winds up to 60 miles per hour can be expected as the storm moves through the area. As of 3PM, utility crews with the power company were still on scene restoring service and making sure the area is safe. The Sublette County Sheriff's Office asks the public to continue to avoid the area surrounding East 6th Street in Marbleton until it is safe to return. Rocky Mountain Power reports that 1800 customers lost power in the Pinedale area. Everyone should have power restored by now. If not, contact Rocky Mountain Power. 1-877-508-5088.
---

Mammography screenings in Marbleton May 1-3 (posted 4/25/19)
Mammography screenings will be available at the Marbleton/Big Piney Medical Clinic Wednesday, Thursday and Friday, May 1, 2 & 3. Schedule your appointment with St. John's Hospital at 307-739-7531.

---

Middle Piney Dam and Road Closure (posted 7/11/18)
Middle Piney Lake access will be closed for three summers for dam reconstruction
PUBLIC NOTICE: Forest Road #10024 heading to Middle Piney Reservoir is now closed above Sacagawea Campground for the next three summers while the dam is being reconstructed. There will be heavy equipment up and down that road. Due to a safety concern for both the public as well as the construction crew, the road will be closed to all traffic during the summer season (including on foot).

The back side of the lake will still be open to the public, but know that it is going to be a long hike OFF-ROAD AND OFF-TRAIL, and there will be NO MOTORIZED access.

According to the Wyoming Water Development Office, the dam is in need of reconstruction due to its high risk of failure. The State is also funding the reconstruction project.

Construction is going to take the shoreline down to its natural level and completely reconstruct the man-made dam. Because of the short field season in the area, the process is going to take at least three years to complete.

During the winter season, while construction activity is on hold, NW Construction will remove their equipment and supplies as much as possible to allow winter access.

Please call the Big Piney Ranger District of the Bridger-Teton National Forest for more information, 307-276-5800.

Click on this link for more pictures

Related Links:
Bridger-Teton National Forest

---

Info on vehicle registration laws in Wyoming for non-resident workers (posted 5/29/18)
Sweetwater County
In a joint release issued on Tuesday (May 29, 2018), Sweetwater County Sheriff Mike Lowell and County Treasurer Robb Slaughter described the details of Wyoming statute concerning vehicle registration for non-residents working in the state.

"The Wyoming statute that addresses this issue," Slaughter said, "is W.S. 31-2-201 (j) and (k). It can be reviewed online at the State Legislature's website at http://www.wyoleg.gov/StateStatutes/StatutesConstitution?tab=0 ."

Lowell and Slaughter outlined the statute as follows:

A non-resident who is employed in Wyoming, on either a temporary or full-time basis, and who is the owner or operator of a vehicle in Wyoming that is not a commercial vehicle must immediately obtain a valid Wyoming registration or purchase a temporary registration.

To obtain a temporary registration, their vehicle must display a valid registration from another jurisdiction and be properly insured. Application is made in person at the County Treasurer's Office at the Sweetwater County Courthouse at 80 West Flaming Gorge Way in Green River. The fee for a temporary registration is $50.00 per month and cannot exceed 120 days per vehicle. If a worker is going to be employed in Wyoming for longer than 120 days, a regular Wyoming registration must be issued.

Those applying for a temporary registration will need to bring with them the following:

- The vehicle's current, non-expired registration
- Proof of insurance
- Color of vehicle
- Payment for temporary registration in the form of cash, credit card, or debit card

Subsection (k) of the statute makes the following provisions for a commercial vehicle owner, a non-resident owner of a vehicle who is not employed in Wyoming, or any owner, upon transfer of ownership to, as an alternative to registration:

A 30-, 60-, or 90-day permit may be obtained in any 12 month period. The temporary permit begins on the date the owner enters Wyoming or on the date of purchase of the vehicle. The fees for a temporary permit are:

Up to 30 days - .10 X regular registration fee
Up to 60 days - .20 X regular registration fee
Up to 90 days - .30 X regular registration fee

Lowell and Slaughter noted that Wyoming has full reciprocity agreements with Idaho, New Mexico, Illinois, and Nebraska. Non-residents working in Wyoming who live in these states may run with their regular registration. If they take up residence in Wyoming, however, (by living here over 120 days, for instance), they must obtain Wyoming registration.

In addition, Wyoming has daily commuter reciprocity with Colorado, Idaho, Montana, Nebraska, South Dakota, and Utah. Non-residents who live in these states and commute to work daily in Wyoming may run with their regular registration.

Lowell emphasized that Sweetwater County deputies are enforcing this statute, and will continue to do so.

Slaughter said those with questions may contact their County Clerk's office.

---

3 towns call themselves the 'Ice Box of The Nation' (posted 1/15/18)
Including Big Piney, Wyoming
Wyoming Public Radio posted an article today (Monday, January 15) about three towns that are fighting to claim the title of "Ice Box of the Nation.' Those three towns are International Falls, Minnesota; Fraser, Colorado; and Big Piney, Wyoming. Each has had record cold recorded temperatures. Big Piney has reached -61F.

For more on this story, click on this link,Why Three Towns Are Fighting To Be The 'Ice Box Of The Nation' and then click on the audio link on the left hand side. Story by Kelly McEvers, All Things Considered, npr.org, Jan. 15, 2018

---

Local Contact Numbers
Big Piney Town Hall
PO Box 70
Big Piney, WY 83113
307-276-3554
www.bigpiney.us

Marbleton Town Hall
10700 US 189
Marbleton, WY 83113
307-276-3815

Flicks & Pins Entertainment Center
Open Sunday through Thursday from 3:00PM to 10:00PM
Friday & Saturday 3:00PM to Midnight
Phone 307-276-4062 for movie times
www.flicksnpins.com/

Big Piney Ranger District
Bridger-Teton National Forest
P.O. Box 218
Big Piney, WY, 83113
307-276-3375 or 276-5800/5200
Fax: 307-739-5235/276-5835
www.fs.fed.us/btnf/

Sublette County Courthouse
21 S Tyler, Pinedale, WY 82941
Big Piney Direct Line 307-276-3827
Marbleton Annex 307-276-3735
Pinedale Information: 307-367-7722

Sublette County Sheriff's Department
PO Box 701
Pinedale, WY 82941
Marbleton: 307-276-5448
Pinedale: 307-367-4378

Big Piney Post Office
401 Budd Avenue
307-276-3772
1-800-275-8777

Sublette County School District #9
Superintendent's Office: 307-276-3322
Big Piney High School: 307-276-3324
Big Piney Middle School: 307-276-3315
Big Piney Elementary School: 307-276-3313
Big Piney Pool: 307-276-9966
www.sublette9.org


Southwest Sublette County Pioneers Senior Citizen Center
429 E First St, Marbleton, WY
P.O. Box 33
Big Piney, WY 83113
Phone: (307) 276-3249
Fax (307) 276-3249
E-mail: southwest001@centurytel.net
Open 8:00am to 4:00pm
Lunch at 12:00 noon Tue. Wed. Thurs. (starting July 1, 2008)
Joan Mitchell / Director
www.bpmseniorhousing.com
Facebook page

Green River Valley Cowbelles
www.greenrivervalleycowbelles.com

More Area Information:
Sublette County Chamber of Commerce (Pinedale)
307-367-2242 or 1-888-285-7282
www.sublettechamber.com

BigPiney.com (Pinedale Online!)
307-360-7689 (days, evenings, weekends, after hours calls ok)
---

Sublette County Fair
July - August
The Sublette County Fair is packed with entertainment and fun. There is something for everyone to enjoy.

One of the many highlights is the Lil' Buckaroo Rodeo. The audience holds their breath as these young cowboys and cowgirls try their hand at bronc riding. The evening ends with the youngest contestants competing in the stick horse barrel race. The greased pig contest is another favorite, the crowd roars with laughter watching the wave a kids overtaking the slimy critters.

Spend some time viewing the livestock shows and watch the participants as they receive their awards for a job well done. Enjoy the wonderful food which some how tastes more delicious in the atmosphere of the fair festivities. Finish the night off at the rodeos with many local cowboys and cowgirls participating in the fast paced events. Visit the Sublette County Fair web page to enjoy pictures from previous years fairs.

For more information visit - www.sublettecountyfair.com.
---

Green River Valley Museum
Open June through October
The Green River Valley Museum is located on the main street in Big Piney. Artifacts from prehistoric Indians, pioneers, homesteaders and other various groups that have settled this area are on display at the museum. Many of the items displayed at the museum were donated by local families. 'Hard Hats and Stetsons' is the annual fundraiser for the museum. The name of the fundraiser itself reflects how important the cattle and oil industry have been for this valley.

The museum is open Tuesday through Saturday from 12:00 Noon until 4:00 PM from June into October (opening date varies, so watch for announcements on the specific date each year). Admission is by donation. Special tours can be arranged by calling Museum Director Jeannie Lockwood at 307-276-3637.

For more information visit www.grvm.com
---

Chuckwagon Days July 3rd & 4th in Big Piney
Chuckwagon Days takes place each year over the 4th of July holiday in Big Piney. There is a Lil' Buckaroo Rodeo, a parade down Big Piney's main street followed by a free BBQ at the Sublette County Fairgrounds, an afternoon rodeo, street dance and late evening fireworks (on the 4th).

The "Chuckwagon Chug" a 5k and 10k Walk/Run, will be held on July 4th, before the Big Piney Parade. Start/Finish is at the Big Piney High School parking lot. There will be prizes for top finishers and gift bags for all contestants.

More information about Chuckwagon Days can be found here: www.ChuckwagonDays.com
---

Local Lodging
If you are looking for local lodging and places to stay in the Big Piney-Marbleton areas, be sure to check the Sublette County Chamber of Commerce website under lodging. Big Piney and Marbleton are located about 35 miles south of Pinedale, so look under motels, RV parks and campgrounds specific to our towns.
Lodging Links:
Bed & Breakfasts, Cabins, Motels, Guest Ranches, RV
www.sublettechamber.com
---

Camping near Big Piney & Marbleton
The closest campgrounds are located on the Big Piney Ranger District of the Bridger-Teton National Forest. They offer two developed campgrounds and many opportunities for dispersed camping in the Wyoming Range west of Big Piney and Marbleton. The forest boundary is approximately 20 miles from local businesses and town services. For detailed information, contact the district office at 307-276-3375.

Sacajewea Campground Located 25 miles west of Big Piney. This campground has 26 sites, basic amenities, and is open June 15th through September 30th. The camping fee is $7.00 per site, per night. This campground has running water, an on-site host, and is well maintained. No electricity, showers or phone.

Middle Piney Lake Campground This is a primitive campground located further down the road from the Sacajewea Campground. This camp area is next to Middle Piney Lake and has 5 tent sites, tables and pit toilets. NO running water, electricity, showers or phone service. NO fees. Because of the narrow winding road to this campground, it is not recommended to take trailers to the lake site.

Forest Service Cabins Big Piney Ranger District offers two Forest Service work centers for rent for overnight stays. One is located at Snider Basin and the other in the Hoback. Contact the Big Piney office for more information on availability and fees.

NOTICE ABOUT BEARS: These campgrounds are in bear country. Both black bears and grizzly bears inhabit the Wyoming mountain range. Visitors are strongly encouraged to practice clean camping techniques and store attractants in a manner that makes them unavailable to bears. Bear-proof canisters are available for rent from the Big Piney Ranger District office. Bear-proof dumpsters are located at various locations at campgrounds and recreation areas on National Forest land.

Dispersed Camping:
There are practically unlimited opportunities for dispersed camping on the Bridger-Teton National Forest near Big Piney/Marbleton. The forest boundary is approximately 20 miles from town. Stay limit is 16 days in any one location. Campers should either bring their own water or boil water obtained from sources in the outdoors to avoid getting sick from organisms that live in lakes and streams. Do not drink untreated surface water. Dispersed camping is available along the Piney, Cottonwood and LaBarge Creek drainages.

Camping on BLM land
There are no developed campgrounds on BLM land near Big Piney or Marbleton, however there are many places for dispersed camping for those who are prepared to bring their own drinking water and camp without developed facilities. For more information, contact the Pinedale Field Office of the Bureau of Land Management in Pinedale.

Private RV Campgrounds
There are several private businesses that offer RV campsites for overnight and extended stays. Most have power, water and sewer hookups. Click here to our sister website, Pinedale Online, for info about private RV campgrounds and services.

Related Links:
Bridger-Teton National Forest/Big Piney Ranger District
Sublette County Chamber of Commerce
---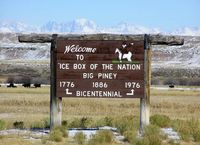 Big Piney, Wyoming, "Ice Box of the Nation"

Big Piney & Marbleton
Ice Box of the Nation
Big Piney is the oldest settlement in Sublette County, Wyoming and was named by Dan B. Budd for the Piney Creeks. In 1879, Daniel B. Budd and his partner Hugh McKay brought a thousand head of cattle from Nevada hoping to ship them at Point of Rocks, but winter caught up to them here in the Green River Valley. The following year Dan Budd moved his family here and that is how the settlement of this town began. Big Piney was called "Ice Box of the Nation" when it was officially made a weather station in 1930. Big Piney had the coldest year round average temperature of any place nationally.

It's a curiosity, considering most Wyoming towns are few and far between, that Big Piney and Marbleton would only be a mile apart. They have separate post offices and town governments. Big Piney was incorporated on July 5, 1913. In the early days there was a lot of drainage problems with the site on which Big Piney was built. So Charles Budd, eldest son to Dan B Budd had hope to build the town up on the bench to alleviate this problem. Charles did establish Marbleton on the bench, in late 1913, but it never replaced Big Piney. Any attempts to combine the two towns has been unsuccessful. The truth is people here kinda' like it that way. Both towns cooperate with each other, they have a common school. The citizens of these two towns take a lot of pride in the growth of their little metropolis over the past years and think the founders would be proud too. Both communities have thrived in the last several decades because of the oil and gas industry. In the 1980's Marbleton recieved it's own post office, because of the number of people moving to the area.
---
To contribute information to this community website,
please e-mail: info@bigpiney.com or info@marbleton.com.
Phone: 307-276-5699 • Fax: 307-276-5414

June 14-18, 2019: Sublette County Rock Hounds Club 3rd Annual Gem & Mineral Show Friday, Saturday & Sunday at the Sublette County Fairgrounds in Big Piney. Friday & Saturday from 9AM to 5PM. Sunday from 9AM to 4PM. Exhibits, field trips, raffles, door prizes, fluorescent mineral display, kids' activities. Food concession on-site. Demonstrations on knapping, wire wrapping, faceting, gold panning. There will be rough rock, slabs, beads, jewelry, cabochons, jade, supplies, opal, fossils. The Grand Prize for the raffle is a new mineral rock discovery from Brazil. Admission is $2.00 for adults.

June 22: Big Piney/Marbleton Airport Annual Fly-In/Car Show & Pancake Breakfast. Starts at 8AM.

July 3 & 4: Chuckwagon Days Little Buckaroo Rodeo on the 3rd. 4th: Early morning walk/run, pancake breakfast, parade down Main Street in Big Piney, free community BBQ lunch, rodeo, fireworks at dusk, street dance in Big Piney.

July 4: The Marbleton Medical Clinic will be closed today Both the Pinedale and Marbleton Medical Clinics will be closed today for Independence Day holiday

July 20: 3 on 3 Basketball Tournament At the Big Piney Recreation Center. This event is hosted by the Big Piney Booster Club.

July 27: Memorial Day events in Big Piney 11:00AM: Memorial Day Services in Big Piney American Legion Post No. 78 will host a service honoring local veterans at 11AM at Plainview Cemetery. Special guest speaker Sublette County Sheriff K.C. Lehr. A picnic luncheon will be held immediately following the ceremony at the cemetery. Everyone is invited to attend.

July 27: 2019 Big Piney Class Reunion There will be a reunion for Big Piney classes 1966 through 1972 on Saturday, July 27th from 3:00PM to 11:00PM at the Southwest Sublette Count Pioneers Senior Center in Marbleton. Cost will be $25.50 for a chicken dinner or $31.50 for prime rib dinner, which includes one trip to a buffet and a beverage. If interested in attending, contact Pam Bowman Norris at pamn528@hotmail.com by July 1st.

August 3: 4 on 4 Volleyball Tournament At the Big Piney Recreation Center.

August 10: BPR Sprint Triathlon At the Big Piney High School. Hosted by Friends of Big Piney Recreation.


September 2: The Marbleton Medical Clinic will be closed today Both the Pinedale and Marbleton Medical Clinics will be closed today For Labor Day holiday.

Green River Valley Museum


Sublette County Fair


Sublette.com


Sublette Co Chamber of Commerce


Town of Big Piney


Big Piney Gun Club

Site Sponsors: