Ice Box of the Nation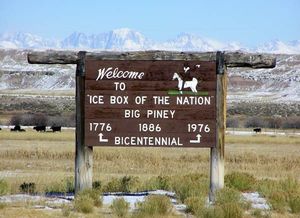 Funeral Service for Preston White April 14

Memorial Funeral Service for Ron Wenz April 13

Hunter Safety Course in Big Piney in April

Muley Fanatic Foundation 4th Annual Banquet and Fundraiser April 7th

Recreation Board budget requests hearings March 13 & 14

VOTING IN WYOMING---THE NEXT DECADE!

Death Notice: Jim Rogers

Memorial Funeral Service for Gary Espenscheid Feb. 8 in Marbleton

Free heart screenings available in February

Free introductory medical career training available for single Moms

2018 Pedigree Stage Stop Race

Marbleton home saved from fire

3 towns call themselves the 'Ice Box of The Nation'

BLM follow-up on dumpsites near Big Piney

BLM updates sagebrush habitat guidelines

BLM rescinds Rule on Hydraulic Fracturing

Basic computer skills help available in Big Piney

Local Contact Numbers

Sublette County Fair

Green River Valley Museum

Chuckwagon Days July 3rd & 4th in Big Piney

Local Lodging

Camping near Big Piney & Marbleton

Big Piney & Marbleton
---

Funeral Service for Preston White April 14 (posted 4/11/18)
Covill Funeral Home
Preston White, 37, passed away Saturday, April 7, 2018 at his home in Big Piney. A funeral service will be held Saturday, April 14th at 12:00 noon at the Pinedale L.D.S. Church. He will be laid to rest Monday, April 16th in Fruita, Colorado.
---

Memorial Funeral Service for Ron Wenz April 13 (posted 4/6/18)
Covill Funeral Home
Ron Wenz, 56, of Big Piney, Wyoming passed away April 4, 2018. A memorial funeral service will be held Friday, April 13th at 11:00 AM at the Marbleton Senior Center.

---

Hunter Safety Course in Big Piney in April (posted 3/29/18)
A Hunter Safety course will be offered at the Big Piney High School in the library April 5, 6, 9, 10 from 5:30 to 9:00PM, with range time on April 11th. Registration is online only at http://wgfd.wyo.gov/HunterEdRegistration/frmCourseList.aspx. Please call Jim Johnson with questions, 307-231-6788.

---

Muley Fanatic Foundation 4th Annual Banquet and Fundraiser April 7th (posted 3/17/18)
The 4th Annual Muley Fanatic Foundation Banquet and Fundraiser will be held at the Sublette County Fairgrounds in Big Piney on Saturday, April 7th. Doors open at 4PM. Sponsored by the Upper Green Wyoming Chapter. Prime Rib/Chicken dinner hosted by The Den. Limited tickets available. $60 single ticket, $110/couples. Kids 11 and under free with paid adult ticket. Corporate tables $1000. Prizes, live and silent auctions, free veteran and kid giveaways. For tickets contact Mitch of Julie Kannier 307-389-0649, muliefanatic.org.
---

Recreation Board budget requests hearings March 13 & 14 (posted 2/22/18)
The Sublette County Recreation Board will hear BUDGET REQUESTS for the fiscal year 2018-19 in Pinedale and Marbleton.

Pinedale: Tuesday, March 13, 2018
6:00 pm – Sublette County Courthouse – Commissioner Meeting Room

Marbleton: Wednesday, March 14, 2017
6:00 pm - Marbleton Town Hall

The members of the Rec Board would appreciate your cooperation in meeting the following guidelines when requesting funds:

• Grant applications can be obtained by contacting Board Clerk, Betty Cheeney at 307-367-6444, or Online at the Sublette County Website under the Recreation Board.

• A representative of your project/organization must attend one of the budget hearings and provide, 11 copies of the completed grant application, list of items requested in order of priority, profit/loss statement and balance sheet. Request packets should only be four pages or less.

Click on this link for the Grant Application form (PDF)

Grant applications will not be accepted after March 14, 2018.

---

VOTING IN WYOMING---THE NEXT DECADE! (posted 2/19/18)
Mary Lankford, Sublette County Clerk
Sublette County Clerk Mary Lankford will be conducting two Community Meetings in Sublette County to discuss VOTING IN WYOMING---THE NEXT DECADE!

This is a statewide effort by Wyoming County Clerks to discuss current voting methods, future trends, and the necessity to update election equipment.

The meetings will be conducted on the following dates in February:

Pinedale, Wednesday, February 21, 2018---Commissioners Meeting Room, Sublette County Courthouse, 6 p.m.

Marbleton, Thursday, February 22, 2018---Town Council Chamber, Marbleton, 6 p.m.

Input from voters and constituents is vital! Please plan to attend!

---

Death Notice: Jim Rogers (posted 2/8/18)
Sublette County Sheriff's Office
On Thursday, February 8th, 2018, at approximately 2:40 PM Sublette County Sheriff's Deputies responded to a welfare check at 314 Chalfant Avenue in Marbleton. The reporting party stated her brother had been ill recently and she had not been able to reach him for some time. Upon arrival, Deputies found a man identified as 63-year old Jim Rogers of Marbleton, Wyoming, unresponsive and cold to the touch. Mr. Rogers was pronounced deceased at the scene. No foul play is suspected.

The Sublette County Sheriff's Office would like to extend our deepest condolences to the family of Mr. Rogers.

---

Memorial Funeral Service for Gary Espenscheid Feb. 8 in Marbleton (posted 2/5/18)
Covill Funeral Home
Gary Espenscheid, 74, of Big Piney, Wyoming passed away January 29, 2018 at the Sublette Center in Pinedale. A memorial funeral service will be held Thursday, February 8th at 2:00 PM at the Marbleton Senior Center.

---

Free heart screenings available in February (posted 2/5/18)
The Sublette County Rural Health Care District is offering free EKG heart screenings in February for local residents to have a copy on file with their provider.

The primary purpose of a 12-lead EKG test, a noninvasive routine examination of the electrical activity of the heart, is to screen patients for underlying heart conditions. The recording is shared with physicians to help detect irregularities in the heart. The most common reasons for recording an EKG are to aid diagnosis of chest pain, to know more about a patient's heart rhythm, to examine the heart with a murmur, and to examine the heart in those who have high blood pressure.

"It is a simple diagnostic test that causes no pain and has no side effects, the screening will take about 5 minutes and you will not feel any discomfort at all," said Dr. Brendan Fitzsimmons, Medical Director of the Marbleton~Big Piney Medical Clinic. "The first safety net is to share your EKG recording with your primary provider. An abnormal reading does not always mean there is something wrong, and further investigations are necessary. If your doctor thinks you may have heart disease or a heart related problem, they may refer you to a cardiologist."

The 5th Annual EKG Clinics will take place Thursday, February 8, 2018 from 12:00 pm - 6:00 pm at the Marbleton Medical Clinic EMS Building and Thursday, February 15, 2018 from 12:00 pm - 6:00 pm at the Pinedale Medical Clinic EMS Building.

To schedule your appointment call (307) 367-2315 or for further details email Sue Briggs-Stanfill at susanb@sublettehealthcare.com.

---

Free introductory medical career training available for single Moms (posted 1/30/18)
Climb Wyoming is offering free introductory medical field career training to single Moms in Sublette, Teton and Lincoln counties. This is an opportunity to take a first step to a professional career. The program offers free introductory training for a variety of skills local employers are seeking in the medical field. The application process has started and Climb Wyoming wants to meet with interested Moms now. Commuters are welcome. Contact Climb Wyoming today to set up an appointment: www.climbready.org, call 307-733-4088, or connect on Facebook.

---

2018 Pedigree Stage Stop Race (posted 1/28/18)
January 26 – February 3, 2018
Big Piney/Marbleon Stage Stop - Stage 3- January 29th 2018:
Big Piney/Marbleton
Town Elevation: 6,994 ft
Stage Distance: 50 miles
First Start: 9:00 AM
Estimated Finish: 2:00 PM

Sunday, January 28: Big Piney/Marbleton Musher Dinner
6:00 pm, Marbleton Senior Center 429 E 1st St Marbleton, Wyoming
Meet the Mushers Dinner at the Senior Center Marbleton

Monday: January 29th: Big Piney/Marbleton Race starts 9:00AM at Middle Piney Parking Lot off road 350, 20 miles from town

Jr Musher: Brogan Staley

Big Piney/Marbleton Stage Stop Supporters:
Marbleton Inn
Hughes Enterprises Inc.
Surveyor Scherbel Ltd.
Town of Big Piney
Town of Marbleton
Western Veterinary Services
Big Piney Elementary 3rd Grade Class
Meadow Canyon Ready-Mix Inc
Southwest Sublette County Pioneers
Wayne's Hot Oil Service Inc
Tegeler & Associates
RS Bennett Construction Co. Inc
Bank of the West
Just Imagine
Obo's Market
Town of LaBarge

Pinedale Stage Stop, Stage 4 - Tuesday, January 30th 2018:
Pinedale, Wyoming
Town Elevation: 7,182
Stage Distance: 50 miles
First Start: 9:00 AM
Estimated Finish: 2:00 PM

Monday, January 29th 201: Meet the Mushers Dinner, 6:00PM, Lovatt Room, Sublette County Library in Pinedale. Meal sponsored by the Pinedale FFA, Community sponsored event. Meet the mushers, host families, sponsors, and supporters.

January 30th 2018 9:00 am Race Start
Start is located Upper Green River Trailhead. Cora end of Hwy 352
Kendall Valley Lodge will have Breakfast & Lunch Specials just west of the Upper Green Parking Lot

Pinedale Stage Stop Supporters:
Bousman CPA LLC
Office Outlet
Pinedale FFA
Pinedale Online!
Town of Pinedale
visitpinedale.org
Greenwood Law LLC
A Clipping Along
Stitchin Post
Kendall Valley Lodge
Northern Title Company
First Bank
Pinedale Auto Supply
The Den Restaurant & Bar
Proactive Rehab & Fitness
Moosely Mailboxes
Hamner Livestock
Best Western Pinedale Inn
Bucky's Outdoors
Babcock Repair Service
Benchmark Plumbing & Heating Inc
Daniel Junction
Historic Log Cabin Motel
Real Estate of Wyoming LLC
Ridley's Family Markets
Rider Property Management
Rocky Mountain Fence
Sublette Chamber of Commerce
Tim's Hotshot Inc
Tri County Sanitation
Windriver Trailers Sales
Wyoming Concepts
Wyoming Athletic Development
Jorgensen Pinedale Wy
OBO's Market & Deli LLC Pinedale
Flugel Welding Inc Daniel, Wyoming
Belveals's Bodyshop & Towing Inc
Belveals's Signs
Historic Log Cabin Motel
Performance Tech
Rocky Mountain Yeti Pinedale
Gannett Peak Lodge LLC
307 Concrete LLC

Next stop: Lander, Wyoming

The week-long race ends on Saturday, February 3rd in Jackson, Wyoming.

For daily race results and more information go to www.wyomingstagestop.org

---

Marbleton home saved from fire (posted 1/17/18)
Timely homeowner discovery and quick fire department response
Sublette County Unified Fire
On January 16 at 4:01 AM, Sublette County Unified Fire Battalions were dispatched to a report of a bathroom ceiling light that was on fire. Unified firefighters quickly responded and extinguished the fire before it was able to spread into other areas of the home. The cause of the fire is still under investigation.

There are two points that Sublette County Unified Fire would like to emphasize:

• The smoke detectors were not reported to be working at the time of the fire. Fortunately the resident heard the noise from part of the light fixture falling from the ceiling and was able to discover the fire and evacuate in a timely fashion. It is critical that all homes have working smoke detectors installed to enhance the safety for all occupants.
• The homeowner had evacuated the residence and left all the doors and windows closed helping to slow the spread of the fire. The act of closing the doors as the homeowner exited the structure helped to minimize the flow of available oxygen to the fire and gave firefighters time to extinguish the fire before it spread.

Sublette County Unified Fire wants to remind residents to periodically check their smoke/carbon monoxide detectors. If you have questions about how to properly install a carbon monoxide or smoke detector, please call Sublette County Unified Fire at 307-367-4550.

Authority
Shad Cooper
Sublette County Unified Fire Chief

---

3 towns call themselves the 'Ice Box of The Nation' (posted 1/15/18)
Including Big Piney, Wyoming
Wyoming Public Radio posted an article today (Monday, January 15) about three towns that are fighting to claim the title of "Ice Box of the Nation.' Those three towns are International Falls, Minnesota; Fraser, Colorado; and Big Piney, Wyoming. Each has had record cold recorded temperatures. Big Piney has reached -61F.

For more on this story, click on this link,Why Three Towns Are Fighting To Be The 'Ice Box Of The Nation' and then click on the audio link on the left hand side. Story by Kelly McEvers, All Things Considered, npr.org, Jan. 15, 2018

---

BLM follow-up on dumpsites near Big Piney (posted 1/10/18)
Bureau of Land Management
As part of the BLM's mission to keep public lands healthy and productive, the Pinedale Field Office recently cleaned up two dumpsites in the Big Piney area.

The BLM informed the public in April 2017 of a large dumpsite on public land, near the Rocky Mountain Power Chimney Butte Substation and Calpet Road. Based on the size, illegally dumping of garbage has occurred for years. With the assistance of a private company, the BLM cleaned up the site and surrounding public land.

The second dumpsite BLM cleaned up consisted of approximately 80 gallons of used motor oil. Cleanup of the oil was complicated due to the containers being shot.

The total cost of the cleanups was $14,100.

To date, BLM has no suspects for either dumpsite but law enforcement continues to investigate.
The BLM is urging people to stop dumping on public lands. There is a significant cost to the taxpayer for cleaning up dumpsites on public land each year. Sublette County is an amazing place and all people should be able to enjoy their public lands free from dumps.

People can anonymously report suspicious activity on public lands to the BLM Law Enforcement Ranger Cody Martin at 307-367-5384.

Click on this link for more pictures

Related Links:
BLM Pinedale requests information on large dump site April 5, 2017

---

BLM updates sagebrush habitat guidelines (posted 12/31/17)
Bureau of Land Management
The Bureau of Land Management (BLM) today (Dec. 29, 2017) issued updated policy statements designed to maintain healthy sagebrush habitat in the West, while continuing to allow multiple use and local economic development.

These six documents known as "Instruction Memoranda," or IMs, give BLM managers and staff guidance for putting sage-grouse habitat management plans into effect at the field level.

"The updated policies are in response to concerns raised by the states, local partners and our own field staff," said Brian Steed, BLM's Deputy Director for Programs and Policy. "They were developed from the ground up with the goal of improving sagebrush habitat while permitting measured economic and recreational activity.

The IMs published today provide guidance for the BLM's on-the-ground management actions in oil and gas leasing and development, livestock grazing leasing and permitting, and evaluating the health of sagebrush habitat. Three of the IMs revise memos issued in 2016; two others supersede guidance issued in 2016. The sixth IM published today is new and directs field staff in using the habitat objective table in sage-grouse management plans to ensure utilization of the best available science to support management decisions.

Policy for oil and gas actions in areas with designated sage-grouse habitat makes it clear that while plans prioritize leasing and development outside of habitat management areas, they still allow leasing with appropriate protective measures on all minerals estate previously designated as "open". This means that the BLM does not need to lease and develop entirely outside of habitat management areas before it can consider leasing and development within sage-grouse habitat management areas.

The IMs reinforce the importance of land health standards, which are established in regulation (43 CFR 4180.2), for evaluating all BLM-managed public lands, those with habitat and those without. While policy on land health evaluation has not changed, clarification in the policy for prioritizing grazing permit renewal responds to concerns of several states that earlier guidance could be interpreted as making the presence of sage-grouse habitat the primary or sole factor to consider in permit and leasing evaluations.

The full text of each IM is available online, https://www.blm.gov/policy/instruction-memorandum.

Today's IMs were developed in consultation with the Governors offices in eleven western states and build on the review of greater sage-grouse plans and policies directed by Secretary of the Interior Ryan Zinke in June 2017.

IMs are generally issued for three years, which allows BLM to review their effectiveness, and if needed, make changes. The IMs issued today will be BLM policy through September 2021.

---

BLM rescinds Rule on Hydraulic Fracturing (posted 12/31/17)
Action supports president's priorities for streamlining permitting
Bureau of Land Management
WASHINGTON, D.C. — As part of President Trump's goal to reduce the burden of federal regulations that hinder economic growth and energy development, the Bureau of Land Management today (Dec. 28. 2017) announced in the Federal Register a final rule to rescind the 2015 final rule on hydraulic fracturing, a rule that was never in effect due to pending litigation. The BLM published a proposed rule to rescind the 2015 final rule in the Federal Register on July 25, 2017. (82 FR 34464).

The BLM reviewed the 2015 final rule as part of Interior Secretary Ryan Zinke's Secretarial Order No. 3349, Promoting Energy Independence and Economic Growth, issued on March 29, 2017. During the review, the BLM found that all 32 of the 32 states with federal oil and gas leases have regulations that address hydraulic fracturing. Furthermore, since the 2015 final rule was published, more companies are using state regulatory agencies and/or databases such as FracFocus to disclose the chemical content of hydraulic fracturing fluids.

The BLM estimates that approximately 1700 production wells were or would be drilled in Fiscal Year (FY) 2017 on Federal and Indian lands. Of those wells drilled in FY17, it is estimated that approximately 90% were completed using hydraulic fracturing techniques to stimulate production. During the past 15 years, there have been significant technological advances in horizontal drilling. The technique is now frequently combined with hydraulic fracturing to help release significant quantities of oil and gas from shale and other tight geologic formations.

The BLM's rule supports the Administration's priorities that require agencies to seek ways to reduce the costs of regulatory compliance (Executive Order 13771, Reducing Regulation and Controlling Regulatory Costs) and that require the Secretary to review four specific rules, including the BLM's 2015 final rule on hydraulic fracturing (Executive Order 13783, Promoting Energy Independence and Economic Growth).

The final rule is available for review on the Federal eRulemaking Portal: http://www.regulations.gov.

---

Basic computer skills help available in Big Piney (posted 12/3/17)
One-on-one instruction by appointment at the Big Piney Library
If you'd like to become computer savvy, the Sublette County Library would be happy to help. Whether you'd like to learn how to use email, surf and shop on the web, stay in touch with loved ones on Facebook, or practice simple word processing, there are people at the local libraries that are happy to teach you anything thing you'd like to learn at a pace that you are comfortable with. Call Jen at the Big Piney Library to schedule an appointment for your one-on-one session, (307) 276-3515.

---

Local Contact Numbers
Big Piney Town Hall
PO Box 70
Big Piney, WY 83113
307-276-3554
www.bigpiney.us

Marbleton Town Hall
10700 US 189
Marbleton, WY 83113
307-276-3815

Flicks & Pins Entertainment Center
Open Sunday through Thursday from 3:00PM to 10:00PM
Friday & Saturday 3:00PM to Midnight
Phone 307-276-4062 for movie times
www.flicksnpins.com/

Big Piney Ranger District
Bridger-Teton National Forest
P.O. Box 218
Big Piney, WY, 83113
307-276-3375 or 276-5800/5200
Fax: 307-739-5235/276-5835
www.fs.fed.us/btnf/

Sublette County Courthouse
21 S Tyler, Pinedale, WY 82941
Big Piney Direct Line 307-276-3827
Marbleton Annex 307-276-3735
Pinedale Information: 307-367-7722

Sublette County Sheriff's Department
PO Box 701
Pinedale, WY 82941
Marbleton: 307-276-5448
Pinedale: 307-367-4378

Big Piney Post Office
401 Budd Avenue
307-276-3772
1-800-275-8777

Sublette County School District #9
Superintendent's Office: 307-276-3322
Big Piney High School: 307-276-3324
Big Piney Middle School: 307-276-3315
Big Piney Elementary School: 307-276-3313
Big Piney Pool: 307-276-9966
www.sublette9.org


Southwest Sublette County Pioneers Senior Citizen Center
429 E First St, Marbleton, WY
P.O. Box 33
Big Piney, WY 83113
Phone: (307) 276-3249
Fax (307) 276-3249
E-mail: southwest001@centurytel.net
Open 8:00am to 4:00pm
Lunch at 12:00 noon Tue. Wed. Thurs. (starting July 1, 2008)
Joan Mitchell / Director
www.bpmseniorhousing.com
Facebook page

Green River Valley Cowbelles
www.greenrivervalleycowbelles.com

More Area Information:
Sublette County Chamber of Commerce (Pinedale)
307-367-2242 or 1-888-285-7282
www.sublettechamber.com

BigPiney.com (Pinedale Online!)
307-360-7689 (days, evenings, weekends, after hours calls ok)
---

Sublette County Fair
July - August
The Sublette County Fair is packed with entertainment and fun. There is something for everyone to enjoy.

One of the many highlights is the Lil' Buckaroo Rodeo. The audience holds their breath as these young cowboys and cowgirls try their hand at bronc riding. The evening ends with the youngest contestants competing in the stick horse barrel race. The greased pig contest is another favorite, the crowd roars with laughter watching the wave a kids overtaking the slimy critters.

Spend some time viewing the livestock shows and watch the participants as they receive their awards for a job well done. Enjoy the wonderful food which some how tastes more delicious in the atmosphere of the fair festivities. Finish the night off at the rodeos with many local cowboys and cowgirls participating in the fast paced events. Visit the Sublette County Fair web page to enjoy pictures from previous years fairs.

For more information visit - www.sublettecountyfair.com.
---

Green River Valley Museum
Open June through October
The Green River Valley Museum is located on the main street in Big Piney. Artifacts from prehistoric Indians, pioneers, homesteaders and other various groups that have settled this area are on display at the museum. Many of the items displayed at the museum were donated by local families. 'Hard Hats and Stetsons' is the annual fundraiser for the museum. The name of the fundraiser itself reflects how important the cattle and oil industry have been for this valley.

The museum is open Tuesday through Saturday from 12:00 Noon until 4:00 PM from June into October (opening date varies, so watch for announcements on the specific date each year). Admission is by donation. Special tours can be arranged by calling Museum Director Jeannie Lockwood at 307-276-3637.

For more information visit www.grvm.com
---

Chuckwagon Days July 3rd & 4th in Big Piney
Chuckwagon Days takes place each year over the 4th of July holiday in Big Piney. There is a Lil' Buckaroo Rodeo, a parade down Big Piney's main street followed by a free BBQ at the Sublette County Fairgrounds, an afternoon rodeo, street dance and late evening fireworks (on the 4th).

The "Chuckwagon Chug" a 5k and 10k Walk/Run, will be held on July 4th, before the Big Piney Parade. Start/Finish is at the Big Piney High School parking lot. There will be prizes for top finishers and gift bags for all contestants.

More information about Chuckwagon Days can be found here: www.ChuckwagonDays.com
---

Local Lodging
If you are looking for local lodging and places to stay in the Big Piney-Marbleton areas, be sure to check the Sublette County Chamber of Commerce website under lodging. Big Piney and Marbleton are located about 35 miles south of Pinedale, so look under motels, RV parks and campgrounds specific to our towns.
Lodging Links:
Bed & Breakfasts, Cabins, Motels, Guest Ranches, RV
www.sublettechamber.com
---

Camping near Big Piney & Marbleton
The closest campgrounds are located on the Big Piney Ranger District of the Bridger-Teton National Forest. They offer two developed campgrounds and many opportunities for dispersed camping in the Wyoming Range west of Big Piney and Marbleton. The forest boundary is approximately 20 miles from local businesses and town services. For detailed information, contact the district office at 307-276-3375.

Sacajewea Campground Located 25 miles west of Big Piney. This campground has 26 sites, basic amenities, and is open June 15th through September 30th. The camping fee is $7.00 per site, per night. This campground has running water, an on-site host, and is well maintained. No electricity, showers or phone.

Middle Piney Lake Campground This is a primitive campground located further down the road from the Sacajewea Campground. This camp area is next to Middle Piney Lake and has 5 tent sites, tables and pit toilets. NO running water, electricity, showers or phone service. NO fees. Because of the narrow winding road to this campground, it is not recommended to take trailers to the lake site.

Forest Service Cabins Big Piney Ranger District offers two Forest Service work centers for rent for overnight stays. One is located at Snider Basin and the other in the Hoback. Contact the Big Piney office for more information on availability and fees.

NOTICE ABOUT BEARS: These campgrounds are in bear country. Both black bears and grizzly bears inhabit the Wyoming mountain range. Visitors are strongly encouraged to practice clean camping techniques and store attractants in a manner that makes them unavailable to bears. Bear-proof canisters are available for rent from the Big Piney Ranger District office. Bear-proof dumpsters are located at various locations at campgrounds and recreation areas on National Forest land.

Dispersed Camping:
There are practically unlimited opportunities for dispersed camping on the Bridger-Teton National Forest near Big Piney/Marbleton. The forest boundary is approximately 20 miles from town. Stay limit is 16 days in any one location. Campers should either bring their own water or boil water obtained from sources in the outdoors to avoid getting sick from organisms that live in lakes and streams. Do not drink untreated surface water. Dispersed camping is available along the Piney, Cottonwood and LaBarge Creek drainages.

Camping on BLM land
There are no developed campgrounds on BLM land near Big Piney or Marbleton, however there are many places for dispersed camping for those who are prepared to bring their own drinking water and camp without developed facilities. For more information, contact the Pinedale Field Office of the Bureau of Land Management in Pinedale.

Private RV Campgrounds
There are several private businesses that offer RV campsites for overnight and extended stays. Most have power, water and sewer hookups. Click here to our sister website, Pinedale Online, for info about private RV campgrounds and services.

Related Links:
Bridger-Teton National Forest/Big Piney Ranger District
Sublette County Chamber of Commerce
---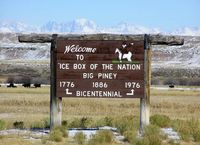 Big Piney, Wyoming, "Ice Box of the Nation"

Big Piney & Marbleton
Ice Box of the Nation
Big Piney is the oldest settlement in Sublette County, Wyoming and was named by Dan B. Budd for the Piney Creeks. In 1879, Daniel B. Budd and his partner Hugh McKay brought a thousand head of cattle from Nevada hoping to ship them at Point of Rocks, but winter caught up to them here in the Green River Valley. The following year Dan Budd moved his family here and that is how the settlement of this town began. Big Piney was called "Ice Box of the Nation" when it was officially made a weather station in 1930. Big Piney had the coldest year round average temperature of any place nationally.

It's a curiosity, considering most Wyoming towns are few and far between, that Big Piney and Marbleton would only be a mile apart. They have separate post offices and town governments. Big Piney was incorporated on July 5, 1913. In the early days there was a lot of drainage problems with the site on which Big Piney was built. So Charles Budd, eldest son to Dan B Budd had hope to build the town up on the bench to alleviate this problem. Charles did establish Marbleton on the bench, in late 1913, but it never replaced Big Piney. Any attempts to combine the two towns has been unsuccessful. The truth is people here kinda' like it that way. Both towns cooperate with each other, they have a common school. The citizens of these two towns take a lot of pride in the growth of their little metropolis over the past years and think the founders would be proud too. Both communities have thrived in the last several decades because of the oil and gas industry. In the 1980's Marbleton recieved it's own post office, because of the number of people moving to the area.
---
To contribute information to this community website,
please e-mail: info@bigpiney.com or info@marbleton.com.
Phone: 307-276-5699 • Fax: 307-276-5414

April 11: Pioneers Senior Citizen Center Storytime Lunch Wednesday, at 11:30AM at the Southwest Sublette County Pioneers Senior Citizen Center in Marbleton. Enjoy lunch while area seniors read stories or tell their own. Lunch will be offered at a discounted rate — contact the Senior Center for pricing information, (307) 276-3249. Volunteers are currently needed for this event. Contact Tawnya at the Big Piney Library to volunteer to read stories: (307) 276-3515 or email her at tmiller@sublettecountylibrary.org.

April 11: Soap Making at the Big Piney Library Wednesday, 5PM. A history and how-to workshop with Wanda Griffin exploring the techniques that area settlers used to make their own natural bath and beauty products. Sign up at the Big Piney Library or by calling (307) 276-3515 as space is limited.

April 12: Polaris RANGER Country USA Celebration event 6:30PM at the Sublette County Fairgrounds near Big Piney. All Sublette County residents are invited to register for tickets. Tickets are free and will be awarded on a first come, first serve basis. Go online to polaris.com/rangercountrycelebrationn. Once requests have been verified and approved, you will receive a confirmation email. Each registrant can opt in for a plus one guest ticket. Space is limited. Register ASAP to make sure you get a ticket.

April 18: Sublette County Museum Board meeting in Big Piney At the Green River Valley. Budget meeting. Discussions on County funding requests for both the Green River Valley Museum and Museum of the Mountain Man.

May 2: Sourdough Cooking Wednesday at 5PM at the Big Piney Library. A history and how-to workshop exploring methods used to create sourdough recipes over time. Sign up at the Big Piney Library or by calling 307-276-3515. Space is limited.

May 5: PFAC Kentucky Derby Fundraiser Saturday at the Sublette County Fairgrounds, Big Piney. www.pinedalefinearts.com

September 2: Sommers Homestead Living History Museum Open House and 2017 Wyoming Cowboy Hall of Fame recognitions More details TBA as event gets closer. The Open House will be from 10AM to 3PM. Free lunch of roast beef, home-cooked potatoes, beans, salads, amazing desserts - many local ranch recipe favorites. Entertainment for the Wyoming Cowboy Hall of Fame will be Jared Rogerson singing and Andy Nelson MC-ing and doing cowboy poetry. Everyone welcome. Last chance to visit the Homestead historical site for the season. This is a joint history project with the Sublette County Historical Society, Green River Valley Museum, and siblings Jonita and Albert Sommers.

Green River Valley Museum


Sublette County Fair


Sublette.com


Sublette Co Chamber of Commerce


Town of Big Piney


Big Piney Gun Club

Site Sponsors: