Big Piney Centennial Monument unveiled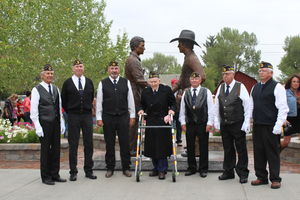 5th Annual Big Piney Sprint Triathlon

Information sought on antelope poaching near Big Piney

Wyoming Stock Growers Association protests proposed sage-grouse plan amendments

Local Contact Numbers

Sublette County Fair

Green River Valley Museum

Chuckwagon Days July 3rd & 4th in Big Piney

Local Lodging

Camping near Big Piney & Marbleton

Big Piney & Marbleton
---

5th Annual Big Piney Sprint Triathlon (posted 8/12/15)
A Fundraiser for Athletes Who Demand More
Terry Allen
Big Piney Recreation Centerís director, Darren Davison has created an event that satisfies the elite athlete and at the same time is welcoming to the beginning or one sport athlete. "You can compete as an individual athlete in all three events, or you can be part of a team and compete in just one event," Darren said.

The competition is three events; a 300 meter (a little over three football fields in length) swim in the pool, an 11 mile bike race and a 5K (3.2 mile) foot race.

This year the competition offered a "Miniís" class for the very young as a way to encourage families to become involved in athletics. The race drew over 40 athletes of all ages.

Romey Ritter age 4 of Salt Lake was among the youngest to compete. "The race was really good," she said. "I liked the swimming best. The running was the hardest. It got real hard coming back."

The race is a fundraiser for Friends of Big Piney Recreation and was sponsored by many local businesses including: Tegeler and Associates, Altitude Drug, Pro-Active Physical Therapy, JLP, Inc., 5 Eís Services, Burney and Company, Blue Wing Consulting and Bennett Construction.

Taryn Eiden of 5 Eís Services said her company was pleased to sponsor the event because: "Itís a great thing for the kids, especially for those who canít afford to be involved otherwise," she said. "The money raised provides scholarships for whatever sport interests the kids. There is something for everybody at the rec. center. I really like to see the kids have fun and be active in our community."

The Triathlon isnít just for kids. Codie Bush of Boulder and mother of two elementary age children had more personal reasons for becoming a triathlon athlete. "Two years ago, I weighed 50 more pounds than I do now, due to having kids," she said. "I mostly lost the weight thru eating right. But, I really started triathlons to get over my fear of water," she said. "I had a near drowning experience as a kid. I was a weak swimmer. I would play around in the pool with my kids, but never in the deep water. So, last year I decided enough was enough. I started working on my technique so I could swim 25 yards without choking at every stroke and having a panic attack. Pretty soon I was swimming every day and fell in love with it. Last July I signed up for my first triathlon in Evanston. It wasnít pretty, but I finished it, and most of all, I didnít drown. But, my biggest joy has been to watch my husband compete. Itís a joy we now share together, and it feels good."

Codie felt good about her overall race performance, but feels she needs to work on her swim. "I think Iím getting a little better, but it has been hard to train," she said. "This winter Iím going to focus on swimming."

Codieís sisters Shannan and Cheyenne came to watch her compete and Shannan was impressed. "It seemed like it would be really hard to run after peddling your bike for 11 miles," she said. Is Shannan inspired to compete? "No, no one will be able to convert me," she said.

Gudrid Espenscheid winner of the individual adult classification has been competing in triathlons for over 20 years. "Running is my main hobby," she said, "but Iíve been doing a lot of trail running lately and it has become a bigger passion."

Gudrid (her Mother is Icelandic) was pleased with her race result. "I was a little slow out of the pool," she said. "Everyone was good in the pool today. There were a lot of high school athletes, so it was competitive and fun. On the bike race, I settled in for a steady cruise. I had to make up the time I lost in the pool section. On the run, I was lucky to have a little gal out in front of me who I was trying to catch and I finally got around her."

Melanie Bennett of Bennett Construction, one of the sponsors, stood at the finish line cheering the finishers. "The Rec. Center is a huge center of our community," "Itís like the hub. We have the Rec. Center and we have the Library, and thatís what keeps us all together."

Results:
Adult team: Kyler Griffen, Bruce Ritter, McKenzi Davison
Adult Individual: Gudrid Espenscheid, J.D. Bush, Danita Ritter
Individual Youth: Jade Espenscheid
Youth Team: Joey Wesycavage, Kelsey Brause, D.J. Varela

Click on this link for more pictures: 5th Annual Big Piney Sprint Triathlon (34 photos)

Photos by Terry Allen

---

Information sought on antelope poaching near Big Piney (posted 7/1/15)
Wyoming Game and Fish seeking publicís help
Wyoming Game and Fish
The Wyoming Game and Fish is seeking information on antelope that were shot and left to waste in the Big Piney area around June 27th or 28th. The antelope were shot off the North Piney-Cottonwood road (County Road 143) near the Friendly Creek subdivision and Meadow Canyon. Anyone with information can contact the Game and Fish Stop Poaching hotline 1-877-943-9847 or Game Warden Adam Hymas at 307-276-3359. Information leading to a conviction in this case will be eligible for a cash reward and can remain anonymous.

---

Wyoming Stock Growers Association protests proposed sage-grouse plan amendments (posted 7/1/15)
Human presence, livestock grazing not a primary threat to sage-grouse
The Wyoming Stock Growers Association (WSGA) has filed a formal protest to the "Wyoming Greater Sage-Grouse Proposed Land Use Plan Amendments". The proposed amendments apply to plans in six BLM Field Offices and three National Forests. WSGA has protested the proposed amendments on three significant issues that the association had previously raised in comments on the draft plan amendments.

The first issues of protest concerns the broad definition of a "disruptive activity" which could limit human presence in an area to not more than one hour out of each 24 hour period during the applicable season. This has the potential to preclude necessary livestock management activities such as herding, doctoring of sick animals, placement of salt and the actions essential to proper grazing management.

WSGA protested language regarding the retirement of grazing allotments when permits are voluntarily relinquished. WSGA maintains that this provision is clearly outside the scope of the authorities granted by statute and regulation to the two land agencies regarding the process for considering closure of areas to grazing for other than resource-related conditions.

Finally, WSGA has objected to the plan amendments failure to adhere to the principles outlined in Governor Meadís Executive Order 2013-3 which was developed with considerable input from the federal agencies. This EO recognizes that proper livestock grazing is not a threat to sage grouse and establishes a clear process for addressing incidents of demonstrated improper grazing. It is consistent with the position of the U.S. Fish and Wildlife Service that grazing is not a primary threat to sage grouse.

WSGA maintains that these provisions, as well as others not addressed in our protest, may be subject to legal challenge. More importantly, they are directly contrary to the spirit of state and locally driven initiatives that are being heralded as the most successful effort to date to recover a species and avoid a listing under the ESA.
_______________________________________

About the Wyoming Stock Growers Association
Since 1872, the Wyoming Stock Growers Association has served the livestock business and families of Wyoming by protecting their economic, legislative, regulatory, judicial, environmental, custom and cultural interests. We promote the role of the cattle industry in resource stewardship, animal care and the production of high-quality, safe and nutritious beef. Learn more at www.wysga.org or call 307-638-3942.

---

Local Contact Numbers
Big Piney Town Hall
PO Box 70
Big Piney, WY 83113
307-276-3554
E-mail: tbpiney@yahoo.com
Mayor: Phillip Smith
www.bigpiney.us

Marbleton Town Hall
10700 US 189
Marbleton, WY 83113
307-276-3815
E-mail: marbletontown@hotmail.com
Mayor: Jim Robinson

Flicks & Pins Entertainment Center
Open Sunday through Thursday from 3:00PM to 10:00PM
Friday & Saturday 3:00PM to Midnight
Phone 307-276-4062 for movie times
http///www.townofbigpiney.com/FlicksnPins.html

Big Piney Ranger District
Bridger-Teton National Forest
P.O. Box 218
Big Piney, WY, 83113
307-276-3375 or 276-5800/5200
Fax: 307-739-5235/276-5835
www.fs.fed.us/btnf/

Sublette County Courthouse
21 S Tyler, Pinedale, WY 82941
Big Piney Direct Line 307-276-3827
Marbleton Annex 307-276-3735
Pinedale Information: 307-367-7722

Sublette County Sheriff's Department
PO Box 701
Pinedale, WY 82941
Marbleton: 307-276-5448
Pinedale: 307-367-4378

Big Piney Post Office
401 Budd Avenue
307-276-3772
1-800-275-8777

Sublette County School District #9
Superintendent's Office: 307-276-3322
Big Piney High School: 307-276-3324
Big Piney Middle School: 307-276-3315
Big Piney Elementary School: 307-276-3313
Big Piney Pool: 307-276-9966
www.sublette9.org


Southwest Sublette County Pioneers Senior Citizen Center
429 E First St, Marbleton, WY
P.O. Box 33
Big Piney, WY 83113
Phone: (307) 276-3249
Fax (307) 276-3249
E-mail: southwest001@centurytel.net
Open 8:00am to 4:00pm
Lunch at 12:00 noon Tue. Wed. Thurs. (starting July 1, 2008)
Joan Mitchell / Director

Green River Valley Cowbelles
www.greenrivervalleycowbelles.com

More Area Information:
Sublette County Chamber of Commerce (Pinedale)
307-367-2242 or 1-888-285-7282
www.sublettechamber.com

BigPiney.com (Pinedale Online!)
307-360-7689 (days, evenings, weekends, after hours calls ok)
---

Sublette County Fair
July - August
The Sublette County Fair is packed with entertainment and fun. There is something for everyone to enjoy.

One of the many highlights is the Lil' Buckaroo Rodeo. The audience holds their breath as these young cowboys and cowgirls try their hand at bronc riding. The evening ends with the youngest contestants competing in the stick horse barrel race. The greased pig contest is another favorite, the crowd roars with laughter watching the wave a kids overtaking the slimy critters.

Spend some time viewing the livestock shows and watch the participants as they receive their awards for a job well done. Enjoy the wonderful food which some how tastes more delicious in the atmosphere of the fair festivities. Finish the night off at the rodeos with many local cowboys and cowgirls participating in the fast paced events. Visit the Sublette County Fair web page to enjoy pictures from previous years fairs.

For more information visit - www.sublettecountyfair.com.
---

Green River Valley Museum
Open June through October
The Green River Valley Museum is located on the main street in Big Piney. Artifacts from prehistoric Indians, pioneers, homesteaders and other various groups that have settled this area are on display at the museum. Many of the items displayed at the museum were donated by local families. 'Hard Hats and Stetsons' is the annual fundraiser for the museum. The name of the fundraiser itself reflects how important the cattle and oil industry have been for this valley.

The museum is open Tuesday through Saturday from 12:00 Noon until 4:00 PM from June into October (opening date varies, so watch for announcements on the specific date each year). Admission is by donation. Special tours can be arranged by calling Museum Director Jeannie Lockwood at 307-276-3637.

For more information visit www.grvm.com
---

Chuckwagon Days July 3rd & 4th in Big Piney
Chuckwagon Days takes place each year over the 4th of July holiday in Big Piney. There is a Lil' Buckaroo Rodeo, a parade down Big Piney's main street followed by a free BBQ at the Sublette County Fairgrounds, an afternoon rodeo, street dance and late evening fireworks (on the 4th).

The "Chuckwagon Chug" a 5k and 10k Walk/Run, will be held on July 4th, before the Big Piney Parade. Start/Finish is at the Big Piney High School parking lot. There will be prizes for top finishers and gift bags for all contestants.

More information about Chuckwagon Days can be found here: www.ChuckwagonDays.com
---

Local Lodging
If you are looking for local lodging and places to stay in the Big Piney-Marbleton areas, be sure to check the Sublette County Chamber of Commerce website under lodging. Big Piney and Marbleton are located about 35 miles south of Pinedale, so look under motels, RV parks and campgrounds specific to our towns.
Lodging Links:
Bed & Breakfasts, Cabins, Motels, Guest Ranches, RV
www.sublettechamber.com
---

Camping near Big Piney & Marbleton
The closest campgrounds are located on the Big Piney Ranger District of the Bridger-Teton National Forest. They offer two developed campgrounds and many opportunities for dispersed camping in the Wyoming Range west of Big Piney and Marbleton. The forest boundary is approximately 20 miles from local businesses and town services. For detailed information, contact the district office at 307-276-3375.

Sacajewea Campground Located 25 miles west of Big Piney. This campground has 26 sites, basic amenities, and is open June 15th through September 30th. The camping fee is $7.00 per site, per night. This campground has running water, an on-site host, and is well maintained. No electricity, showers or phone.

Middle Piney Lake Campground This is a primitive campground located further down the road from the Sacajewea Campground. This camp area is next to Middle Piney Lake and has 5 tent sites, tables and pit toilets. NO running water, electricity, showers or phone service. NO fees. Because of the narrow winding road to this campground, it is not recommended to take trailers to the lake site.

Forest Service Cabins Big Piney Ranger District offers two Forest Service work centers for rent for overnight stays. One is located at Snider Basin and the other in the Hoback. Contact the Big Piney office for more information on availability and fees.

NOTICE ABOUT BEARS: These campgrounds are in bear country. Both black bears and grizzly bears inhabit the Wyoming mountain range. Visitors are strongly encouraged to practice clean camping techniques and store attractants in a manner that makes them unavailable to bears. Bear-proof canisters are available for rent from the Big Piney Ranger District office. Bear-proof dumpsters are located at various locations at campgrounds and recreation areas on National Forest land.

Dispersed Camping:
There are practically unlimited opportunities for dispersed camping on the Bridger-Teton National Forest near Big Piney/Marbleton. The forest boundary is approximately 20 miles from town. Stay limit is 16 days in any one location. Campers should either bring their own water or boil water obtained from sources in the outdoors to avoid getting sick from organisms that live in lakes and streams. Do not drink untreated surface water. Dispersed camping is available along the Piney, Cottonwood and LaBarge Creek drainages.

Camping on BLM land
There are no developed campgrounds on BLM land near Big Piney or Marbleton, however there are many places for dispersed camping for those who are prepared to bring their own drinking water and camp without developed facilities. For more information, contact the Pinedale Field Office of the Bureau of Land Management in Pinedale.

Private RV Campgrounds
There are several private businesses that offer RV campsites for overnight and extended stays. Most have power, water and sewer hookups. Click here to our sister website, Pinedale Online, for info about private RV campgrounds and services.

Related Links:
Bridger-Teton National Forest/Big Piney Ranger District
Sublette County Chamber of Commerce
---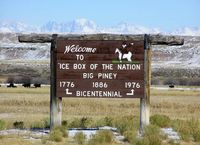 Big Piney, Wyoming, "Ice Box of the Nation"

Big Piney & Marbleton
Ice Box of the Nation
Big Piney is the oldest settlement in Sublette County, Wyoming and was named by Dan B. Budd for the Piney Creeks. In 1879, Daniel B. Budd and his partner Hugh McKay brought a thousand head of cattle from Nevada hoping to ship them at Point of Rocks, but winter caught up to them here in the Green River Valley. The following year Dan Budd moved his family here and that is how the settlement of this town began. Big Piney was called "Ice Box of the Nation" when it was officially made a weather station in 1930. Big Piney had the coldest year round average temperature of any place nationally.

It's a curiosity, considering most Wyoming towns are few and far between, that Big Piney and Marbleton would only be a mile apart. They have separate post offices and town governments. Big Piney was incorporated on July 5, 1913. In the early days there was a lot of drainage problems with the site on which Big Piney was built. So Charles Budd, eldest son to Dan B Budd had hope to build the town up on the bench to alleviate this problem. Charles did establish Marbleton on the bench, in late 1913, but it never replaced Big Piney. Any attempts to combine the two towns has been unsuccessful. The truth is people here kinda' like it that way. Both towns cooperate with each other, they have a common school. The citizens of these two towns take a lot of pride in the growth of their little metropolis over the past years and think the founders would be proud too. Both communities have thrived in the last several decades because of the oil and gas industry. In the 1980's Marbleton recieved it's own post office, because of the number of people moving to the area.
---
To contribute information to this community website,
please e-mail: info@bigpiney.com or info@marbleton.com.
Phone: 307-276-5699 • Fax: 307-276-5414

September 3: Mountain Medical Mammovan in Marbleton The Mountain Medical Mammovan will be in Marbleton. Call the Marbleton Clinic for an appointment.

Green River Valley Museum


Sublette County Fair


Sublette.com


Sublette Co Chamber of Commerce


Town of Big Piney


Big Piney Gun Club

Site Sponsors: