Frank and Elizabeth Chapel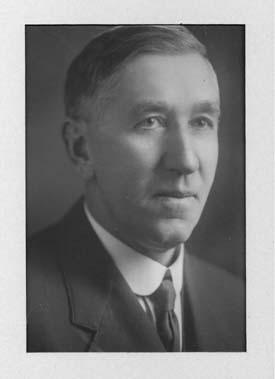 (Photo courtesy of Dan Chapel)
Frank Chapel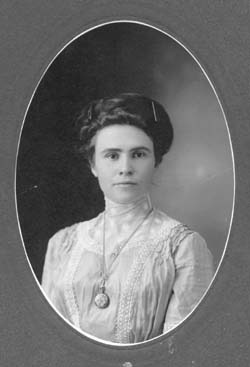 (Photo courtesy of Dan Chapel)
Elizabeth Jenkins Chapel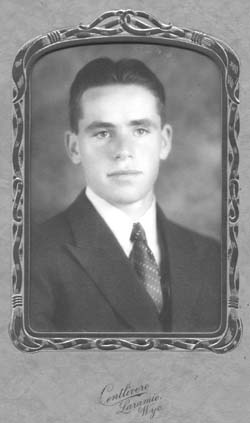 (Photo courtesy of Dan Chapel)
Dan Chapel
Frank Chapel was born in Cincinnatus, New York, June 14, 1873. His father was William Wallace Chapel and his mother Alice G. Prichard Chapel. His family immigrated to this country in 1630 and settled in New London, Connecticut. Following the Revolutionary War, Joshua Chapel moved to upstate New York and there are some relatives still in the same area. William Wallace served in the Civil War as part of the New York militia and then married Alice. They had four children of whom Frank was the youngest. William Wallace moved his family to Missouri but Alice stayed for only a short time then went back to New York with her children. At age 15 Frank went to live with his father who had been appointed postmaster of San Carlos, Gila county, Arizona Territory on May 11, 1886. As postmaster, he was also the post trader at Fort San Carlos. Frank met Tom Horn there and they used to go hunting together. Gerronimo was on the reservation at this same time and it was too dangerous to go out alone.
Frank earned the life-long nickname of Peanuts while participating in the Oklahoma land rush. He made a claim on a section of land but ended up existing on the only food he had, peanuts. He rode a buffalo in the St. Louis World's Fair. He finally made his way to Wyoming where he hired out as a sheepherder. He told of a problem with the local cattlemen who tied him and his partner up, bent their pistols through the holes in the sheepwagon, and shot all the sheep. These men later became his friends. When Elizabeth met him he was tending bar at a saloon in Opal. At the time he liked to drink whiskey, but when Elizabeth told him she didn't like that, he never took another drink of hard liquor.
Elizabeth Jenkins was born January 9, 1890, at Rock Creek, Colorado. Her parents had both immigrated from Wales but met and married in Pennsylvania. Her father was a coal miner and they lived for a time in Youngstown, Ohio, then moved to Colorado then finally Wyoming. Elizabeth grew up first in Cumberland then Diamondville. She was among the oldest of ten children. Martha (Bunty) Stevens and Charlotte Herschler were her sisters. Some of her brothers moved to Rock Springs and Green River where their children and grandchildren continue to live. She moved to Opal and cooked in a hotel then met Frank. They were married July 26, 1910, in Green River.
Frank and Elizabeth moved to the Big Piney area and took out a homestead south of town on the east side of Green River. They then bought the Bucket of Blood, moved it and built the Big Piney Hotel and Bar. In 1920 they sold it and bought a ranch northeast of town on the Green River. They had four children but only one, Dan, lived to maturity. Frank died April 14, 1942 at the ranch. Dan had married Helen Lambert just three months before, and they took over the ranch. Elizabeth built a home in Big Piney and lived there until her death October 29, 1976.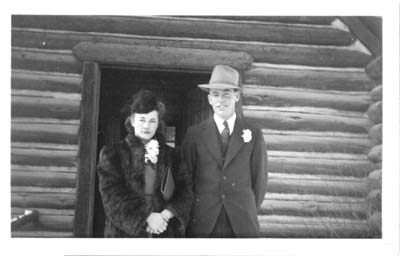 (Photo courtesy of Dan Chapel)
Dan and Helen in front of the Episcopal Church in Jackson, Wyoming,
on their wedding day, Jan. 10, 1942