1
Daniel and Josephine Budd homestead

(Photo courtesy of Nancy Espenscheid)
The Budd homestead from the southwest side


(photo from the Pearl Spencer collection courtesy of Green River Valley Museum)
This photo is the Budd ranch looking west on Highway 351.


This picture shows the Daniel and Josephine Budd homestead
Daniel B. and Josephine Boyer Budd in 1885 took up a homestead at the present site of Big Piney. Their children were Sarah, Charles, Jesse, John, Henry, and Daniel. On the bank of the North Piney Creek they built a log home with a sod roof. The post office had been at the Swan ranch since 1879 but was moved to the Budd home in 1887. Mail was brought in from Opal once a week. In the same year a general store was erected with a dance hall on the second floor. The post office became part of the store of Budd and Sons. Mrs. Budd later sold part of the homestead to the town of Big Piney. Later the Budds built the second log cabin to be used by traveling salesmen, dentists and doctors.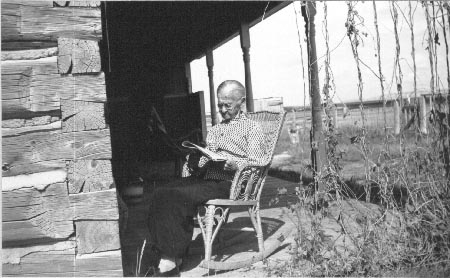 (Photo courtesy of the Green River Valley Museum)
This shows Josephine Budd at her home. Tagg and Nancy Guio's home presently is at this site.
Sources:

The Green River Valley Museum
Nancy Espenscheid
They Made Wyoming Their Own, p.112
Wyoming's Last Frontier, p. 79